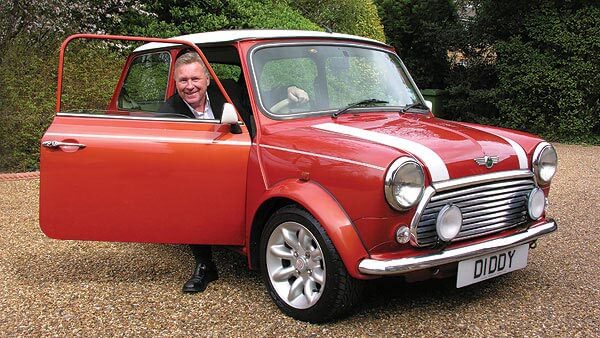 David Hamilton
We arrive in the leafy London suburb in glorious spring sunshine. David and his beautiful Gordon setter, 'Mister' Max, greet us at the door. He was recently a star of the Channel 4 programme; It's Me or the Dog. "He's not changed much," says David, commanding the dog to lie down. The doleful eyes look up, but he won't budge. "You see, it's us that need training," he laughs.
Having been on the road for a couple of hours, I'm in need of the little girls' room. David is delighted to show me his downstairs toilet which is covered, floor to ceiling with picture discs from the 1980's - Madonna, Culture Club, The Thompson Twins - it's a comprehensive collection. He points out the device he's set up for alerting others that the 'little room' is occupied - when the door is locked, a genuine 'On Air' sign lights up outside. Genius!
David 'Diddy' Hamilton is one of Britain's best loved radio and TV presenters. 2006 marked his 50th year in the business. In that time, he has hosted an incredible twelve thousand radio shodiddyws (and counting) and one thousand television programmes.
But it was back in 1967, whilst appearing in Doddy's Music Box that David had his first big break on to a national television series. The show's front man, Ken Dodd, famous for his buck teeth, tickling stick and 'Diddy' men, recruited David as his sidekick. Because of David's small stature, Dodd nicknamed him 'Diddy', after the tiny residents (usually children dressed up) of his mythologised Knotty Ash. "Ken took me aside and asked me if it was OK to call me Diddy, because it was poking fun at me," said David, "he told me he thought the name was likely to stick so wanted me to be happy with it. I said I didn't mind at all. In fact I think it helped people remember me in the early days."
The name certainly did stick, but it wasn't until 1990, when David heard about the D1 DDY number plate coming up for sale at auction, that he thought he would have some fun with it.
"I won the plate for £5,000, which was about what I expected to pay, but someone else was bidding against me over the phone. It was probably Ken!" The plate was the perfect match for David's red Mini Cooper. It's now on 'DiddyMobile' number two - another Mini, this time in 'Volcanic Orange'.
Proving that small is beautiful, David says that the car and personalised number plate together have always attracted affectionate comments. "It looks cute, and people can't help saying so. It's been a great publicity tool for me over the years," he says, "I never hear jealous remarks which might happen if it were on something like a 4 x 4. I often find notes on the windscreen, asking if I will sell it. One woman who wanted it was called Diddy McDonald.
"When I was working for a radio station that belonged to Harrods' owner Mohammed Al Fayed, a security guard told me that a man across the street had been admiring my number plate. I went over to speak to him and it turned out to be Didier Deschamps, a footballer for Chelsea at the time. I didn't know his name then, so asked him what it was. He replied, Didier, so I said, I'm Diddier than you! He laughed and asked how much I wanted for the plate. Off the top of my head I said £20k. He came straight back with the reply, 'Only?' So with a bit of quick thinking, I added, and £20k for the back one! Didier returned to France soon after and I wasn't ready to part with my plate at that time. If I was offered silly money for it, I think I would find it hard to refuse. Perhaps Didier Drogba (another Chelsea player) might be interested..."
David says that if he did ever want another private registration, it would have to be one that was funny. "I don't understand people who criticise personalised number plates - they're missing the point completely - they're a bit of fun. At least I know where to search for one," he says, looking at the Regtransfers magazine, "the best one I saw recently was DAD 150K - Dad is OK - fantastic."
David began his career writing a weekly column for Soccer Star magazine, at the age of 15. When he left school, he became an office boy for ATV. and after he had an article published in the TV Times, he was offered a job writing promotion scripts for ATV.'s announcers. By 18, David had written a series called Portrait of a Star for the ITV network. His new-found career was interrupted by two years National Service in the RAF.
In 1959, he found himself in Cologne, Germany, working on the British Forces Network where his first broadcasting role was reading the football results. He persuaded the network to let him run his own rock 'n' roll show, Hey There.
"It was what the troops wanted," said David, "during the 45-minute show every Sunday afternoon, I played Elvis, Little Richard - everything that was current. My show was followed by a talk from the Padre as if everyone had to be cleansed after listening to such music! Much later, when I saw the film Good Morning Vietnam, I thought, wow, that's my story, and it really was like that. Of all the jobs I've done, I still love radio the most. I'm from the radio generation. After us came the television generation and now it's the computer generation.
"When I was a boy I listened to Pete Murray. He was my hero. I remember seeing a copy of FAB 208 magazine. It showed photos of Pete in glamorous settings. I thought, that's the kind of life I'd like. I wanted to be like him, he was my inspiration for coming into radio.
I'd never have dreamed that all these years later, Pete and I would be the best of friends." After National Service, David returned to his script-writing job. But he'd enjoyed his introduction to broadcasting so much that he wanted to go back to it, so later that year he became an ABC TV announcer, with the first of many TV appearances following soon after. A year later, he took the role of announcer, newsreader and programme presenter for Tyne-Tees Television, in Newcastle. It was his chance to break the mould in what he saw as the usual 'stuffy style'. He decided to add a bit of fun, so when introducing the hospital seriesEmergency - Ward 10, David dressed up in a doctor's white coat and stethoscope. When linking to a western film, he'd appear with a gun and a Stetson. It wasn't long before Tyne-Tees viewers took him to their hearts. In 1962, they voted him 'Tyne Tees Television Personality of the Year.'
David's career flourished. He regularly appeared as an announcer for Anglia TV, Westward TV, Southern TV and Border TV. He hosted shows such as Cue for Sport (1962), Rehearsal Room (1964), It's a Geordie Beat (1964),The Bright Sparks (1966-67), Singalong (1967) and Pop the Question (1968).
"In March 1963, I was one of the first to interview The Beatles," said David,"they sang their hit She Loves You at a concert in Urmston, Manchester. Girls in the audience were screaming so much, we thought the marquee would come down. "I was also lucky enough to interview their manager Brian Epstein, on the ABC At Large television show. Brian introduced another sensational group of the day, Gerry and the Pacemakers, whose first three songs went to number one."
The Beat Show was the first programme David hosted for BBC Radio in which all the top pop groups appeared. "It was a time when beat groups were emerging and the popularity of the big bands was slowing down. Economically speaking, beat groups were much cheaper to put on because they had fewer members.
"I've had the privilege of seeing everyone from Frank Sinatra to Frank Zappa but I have to say that it was Dean Martin and Frank Sinatra that stood out from the rest. They were the two greats." David maintains that the most rewarding part of any of his jobs was discovering the star acts of tomorrow. "When I was working at Radio One, a three-girl group from Philadelphia filled-in at a London Palladium show I was hosting. They were called The Three Degrees and they sang Year of Decision. I immediately knew they had something special. I presented them as the new 'Supremes' and featured their song as my record of the week on Hamilton's Hot Shot. They followed it with the massive hit When Will I See You Again. Another 'Hot Shot' was the unusualBohemian Rhapsody by Queen.
When I moved to Radio Two, I took the Hamilton's Hot Shot concept with me. Radio One decided not to play songs from a new group called Culture Club. They thought that Boy George was a bit too out there, but I championed them and now Boy George is not only a household name but a DJ himself."
David seems to have been around during many transitional moments in broadcasting history. For instance, on 28 July 1968, he scripted and presented the final programme for ABC TV, ending his time there as announcer. Only two days later he became the first face on the new Thames TV from London. He hosted many shows for Thames, including Fashion from Woburn, Magic Circle Christmas Box, Million Dollar Legs and The Magic Circle Show. He also made appearances in Mike and Bernie's Show, The Dickie Henderson Show, and The Benny Hill Show.
In September 1967, David was there to wrap things up for Housewives Choice. Two months later, he made his first broadcast on the new Radio One as host of Family Choice. He went on to present Music through Midnight, Roundabout, Pop Inn, Radio One Club and The David Hamilton Show (broadcast on both Radio One and Two).
In 1971, David was asked to play Buttons in Cinderella at the Alhambra Theatre, Bradford. It was his first pantomime. "My pal Ken Dodd came to see me at rehearsals. I was struggling with my voice, my throat was sore, so he recommended a cough sweet called The Actors Friend, which really helped. He told me to have my microphone closer to my mouth so that even if my voice was faint, the sound could be turned up and I would be heard clearly. He also suggested that I work on my pathos - I should get the kids on my side because as Buttons, I was the good guy. I followed what he told me and soon after a little boy called out during a matinee, 'marry Buttons.'
1 | 2