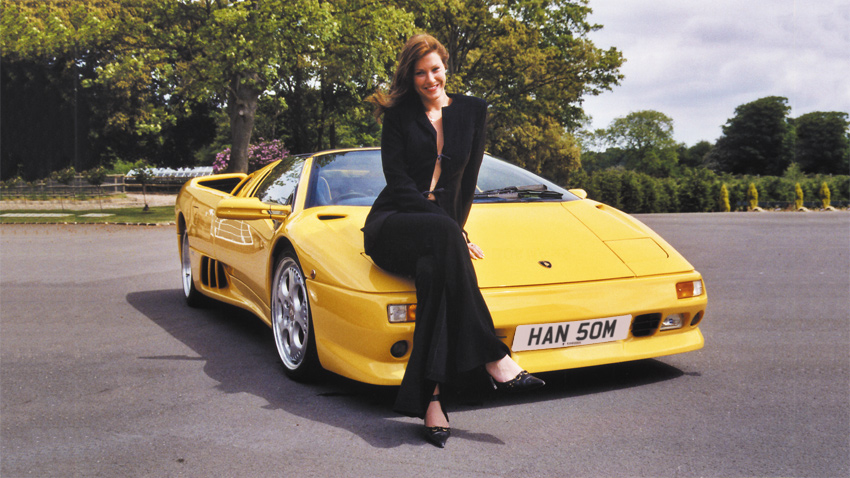 Danielle Cooper
Danielle Cooper and Ivor Jacobs each have their own companies – but they still clearly enjoy each others'. Danielle is from Preston originally but now lives in Derbyshire with her partner Ivor. She became interested in number plates after seeing her father's private plate as a child.
She realised how different it was from everyone else's and dreamed of finding her very own personal plate one day.
At an early age, she would go travelling with her father and would both spot and make a note of unusual plates. One of these was 5403 AC, which her father bought and has owned for more than 25 years.
Bug
Ivor, of course, also got the number plate bug when he was very young; six years old, in fact. Again it came about because of his family's plate PJ 1212which was on his dad's car at the time. Unfortunately he doesn't own it any more. He finally bought his first plate, 7 VUR, in 1977 and over the years has added 1 VUR, H11 VUR, 11 MJ,111 OR and 1 UOR to his collection.
Danielle and Ivor met by chance after an unusual meeting following a football match between Preston and Nottingham Forest 18 months ago. They found they had a lot to talk about – and not just number plates! Animals play a major part of Danielle and Ivor's life together. They have horses, dogs, rabbits, ducks and chickens. Plus any waifs and strays that Danielle might find whilst she is out and about.
Ivor has two daughters and, after many years of searching with the help of number plate dealers such as Regtransfers, has found plates for them as well. ROX 1E and ROX 1J for 12 year old Roxi and DAN 1J andD4 NYJ for Dannielle, who is now 17 and will soon be driving.
Domain
At one stage Danielle worked for a metal recycling company – a job that lasted for 7 years. It got her thinking about starting her own business and after securing her own website domain name, www.danielle.co.uk she is now looking for ideas of how best to use it. If anyone has any please get in touch via email on:danielle@danielle.co.uk.
Ivor's early business interests were in jewellery and antiques after which he moved on to build up a large nationally known replacement window business. He sold it after 20 years and now has a successful property development business by the name of Roxdan Developments and Investments (after daughters ROXie and DANnielle).
Ibiza
During the summer they spend many happy days together in Ibiza where they are fortunate enough to have an apartment overlooking Ibiza Town's harbour, or "the crazy town" as Danielle puts it.
"It's a very special place. We both enjoy going out on our motorbikes whilst we are here", she says, "it's the best way to travel in the sun both here and at home".
Danielle enjoys going back to Preston now and again to see her friends and family – any excuse to get in her car and drive. She loves driving her car especially since Regtransfers managed to find her ultimate dream plate1 DLC (Dannielle Louise Cooper). She now dreams of finding DLC 1*.
Lamborghini
On the day we went to meet the couple, we were able to get some great pictures of Danielle alongside some of Ivor's prized cars and number plates. This included a superb yellow Lamborghini with the registration HAN 50Mand a black GT version sporting BAT 114N.
"Many thanks to Regtransfers and the team for a great day during the photo shoot. I had a great laugh and got a chance to wear my boots." Danielle concluded.
* If anyone knows the whereabouts of DLC 1, please contact Regtransfers on 01582 470077 or email editorial@regtransfers.co.uk
© Regtransfers – The World of Personal Number Plates Volume 2 Issue 3