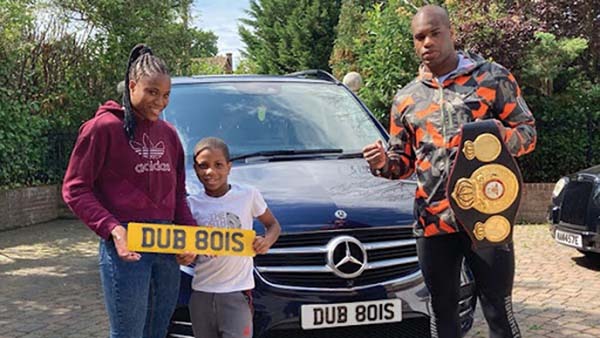 Daniel Dubois
As regular readers will know, top boxers and top number plates go together like fists and boxing gloves. When the time came to find a great number for Daniel "Dynamite" Dubois, we knew we had to find something special: something direct and to the point. In the end, DUB 801S seemed to fit the bill perfectly.
What is the appeal of a personal number plate for Daniel Dubois? "I like the way they can tell a story about who you are."
While not a full biography, we think Daniel's new registration is at least a decent introduction as it provides the best possible representation of his name on a plate. And what a name it is. Daniel's success, and that of younger sister Caroline, have prompted the press to refer to them as "the fighting Dubois family" - or perhaps that should all be given initial capitals: "The Fighting Dubois Family".
Early days
Daniel has his father (mostly known as Dave, despite his birth name actually being Stan) to thank for initiating his boxing career. Dave raised his seven youngest offspring as a single parent and when he first took his eight-year-old son to a London gym, the plan was partly to occupy young Daniel's time with something that would keep him out of trouble. The precaution paid off: not only did Daniel immerse himself in the sport but he soon showed real aptitude and ability, just as his dad had hoped.
"I enjoyed it so much," Daniel told Regtransfers, "he just kept bringing me back."
Rise of a powerhouse
Daniel spent the next few years doing the foundation work as an amateur. His strength and ability saw him safely through more than 70 amateur bouts that netted him a decent haul of titles and medals. Despite a place in the Olympic squad for 2020, the young heavyweight decided to turn professional at the beginning of 2017, when he signed with promoter Frank Warren. His career trajectory seemed to be fixed when fifteen opponents fell like dominoes, all but one knocked out by the extraordinary power of his punches.
Reset
Then, in November 2020, came the first real setback, when Daniel suffered a serious eye injury which stopped his fight against fellow Brit Joe Joyce in the 10th round. At the time, his withdrawal from the bout attracted some harsh criticism from some boxers and pundits. However, there were plenty of people who supported his decision and, when doctors revealed the seriousness of the injuries (which included an orbital fracture), many of Dubois's critics seemed to wish they hadn't been quite so quick with their jibes. Super-middleweight Billy Joe Saunders was one who had cause to reconsider his criticism. After Dubois's injury, Saunders said "Fighters get in that ring and we know what's on the line. Before I go on one knee I'd like to go out on my back with my pulse stopped."
In May 2021, Saunders had to withdraw in round eight of his match against Mexican Canelo Álvarez, after suffering eye injuries similar to those sustained by Daniel Dubois in the earlier incident. Like Dubois, Saunders experienced the only defeat of his professional career to date as a result of the damage.
The long term consequences of head injuries in sports in general are only now becoming apparent. It is to be hoped that this new awareness will soon eliminate irresponsible and reckless objections to sports people taking action to preserve their lives and health. Daniel says that the Joyce fight and its consequences made a very powerful impression on him. "It took me to a dark place," he says. "I had to find myself again but it brought out the best of me."
Back in the fight
It did indeed. After taking the time needed to heal, Daniel stepped back into the ring in June 2021 and delivered a second-round knockout against Romanian Bogdan Dinu, thus demonstrating that his enforced break had not made him any less formidable as a fighter. If further confirmation were needed in some minds, it was supplied emphatically with the first-round TKO of USA's Joe Cusumano in August 2021. Normal service had been resumed and Dynamite Dubois was back on track.
The Joyce bout has not been forgotten, nor have the lessons learned from the experience, but the two comeback fights have re-established the direction of travel and Daniel's sights are set onward and upward. His mission statement echoes the dream his father has had for him from the outset.
"My ambition is to be the best that I can possibly be, and to win and defend the world title." The next step on that road? "Hopefully, the world title against Trevor Bryant, Don King's fighter. They're trying to make that fight right now."
The man behind the punch
While many boxers deliver as much in the way of trash-talking and soap-opera controversy as they do in punches, Daniel is known as a man of few words: he's a genial chap who seems happy enough to answer questions and the impression he gives in interviews is a blend of modesty and confidence. His laconic nature doesn't denote a reluctance to engage, just a tendency not to waste unnecessary words.
Despite his ability, and tendency, to end a fight quickly, his boxing style, like his speech, is measured and unrushed. Daniel lists his influences as Muhammad Ali, Mike Tyson and Lennox Lewis and he manages to combine the best traits of his heroes into his technique: he is both athletic and devastating. But despite his own numerous merits as a boxer, Daniel Dubois is perhaps more vocal about the talent of other family members than he is about his own. He has declared his sister, former Olympic boxer Caroline Dubois, to be "pound for pound" the best boxer in the family. He has posted jubilantly to social media celebrating the boxing victories of younger brother Prince and has said that he believes youngest brother Solomon to be the most talented of the siblings and the one with the most potential.
Caroline has become a household name in her own right and is seen as a real prospect. The BBC's Mike Costello is on record as saying "I am tempted to call Caroline Dubois the best female boxer I have seen."
After narrowly missing out on a medal in Tokyo, Caroline decided to follow in her brother's footsteps and turn professional. Just as Daniel has always been able to rely on the family to support him all the way, his sister also has the fighting Dubois clan firmly in her corner. As a child, Caroline was inspired by Daniel's performances in the ring. She decided that she too wanted to box and, of course, Dave helped her to make it happen. As girls were not permitted to spar or fight in most gyms, Caroline's early boxing was done in disguise… as a boy named "Colin"!
"Now she's turned pro," Daniel says, "she wants to win world titles in many weight divisions. "We train together from time to time and we go for runs together sometimes."
Outside the ring
Apart from his family, there are few things outside of boxing that really stand a chance of competing for Daniel's attention. He likes his music - classic soul, rare groove, a bit of pop and jazz - and is also fond of travelling and seeing new people and new cultures. He likes his cars, but isn't extravagant about it. Daniel does own a lovely Bentley GTC convertible but his other car is a more practical Mercedes V Class people carrier. He tells us that his dream car would be a Lamborghini but he shows no desperate need to rush out and buy one.
No, these aren't obsessions - all of these are just footnotes. Daniel Dubois is really all about one passion. "To be honest, I don't have too much time outside of boxing …"
Story: Rick Cadger