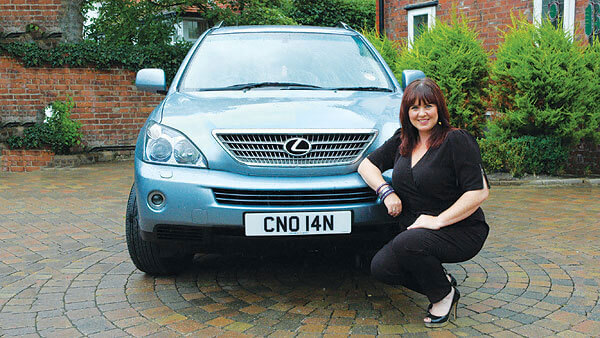 Coleen Nolan
There is an old joke that claims "nostalgia isn't what it used to be...". Actually, joking apart, that's probably true because these days nostalgia can be big business. Reunion tours by successful, but long dormant, artists and bands are selling out everywhere one looks.
The Nolan Sisters, later simply The Nolans, enjoyed great popularity in the 1980s. Their light, lively pop sound, with its tight vocal harmonies, struck a chord with audiences and record buyers. In various incarnations, made up of various configurations of sisters, The Nolans became regulars in the music charts and on UK television. They also enjoyed spectacular and enduring success in Japan. In 2009 they reformed and staged a sell-out tour of the UK. Despite continuing celebrity for the two youngest sisters, Bernadette and Coleen - both of whom had successful television careers - and steady work for other members, TheNolans per se had not really been in the public eye for some years.
"The tour was absolutely amazing," Coleen says. "The best thing we have ever done, I think, in respect of enjoyment.
We enjoyed it so much more this time than we did the first time around, because there was no pressure this time. We were really doing it because we wanted to have one more go at it but we all had our independent careers, so it wasn't based on having a hit record or having a hit album. It was just a question of whether we wanted to do it. And we did arenas this time, which is something that we never did the first time around. It was done on a much bigger scale, much bigger production. We stood there thinking, Oh, my God! I never thought we would do this again. We're not spring chickens anymore [laughs] but we were prancing about for two hours. It was brilliant."
The recent tour was a real family affair, despite the absence of older sister Anne. Coleen's husband, guitarist Ray Fensome, and Bernie's husband, drummer Steve Doneathy were both part of the band. The Nolan story has always been about family, one way or another.
"I started singing with them when I was two," Coleen says. "As each kid came along, they joined the family group. Apparently, when I came along, the thing they were most worried about was whether or not I'd be able to sing! How embarrassing would that have been?
So we all joined, and eventually there were 10 of us. The Singing Nolans we were called and we used to do all the clubs all over Scotland, Wales and England. All my family were born in Ireland and I was born in Blackpool.
"We moved from Blackpool to London, when I was nine. A guy came to Blackpool and absolutely loved the act, so he wanted to bring it to London. My two brothers were both engaged to girls in Blackpool at the time, and they decided that they wanted to stay in Blackpool. Anyway, the guy owned a venue called the London Rooms in Drury Lane and he gave my sisters a contract there, and that's kind of how The Nolan Sisters took off. They did about five years there, but because it was cabaret I couldn't do it. You needed licenses for that in those days, so I just did the odd TV show with them until I joined the group professionally at 15." Anne, Denise, Maureen, Linda and Bernie began performing as The Nolan Sisters in 1974. In 1978 the group began to see some success in the UK record charts, but Denise decided to leave in favour of a solo career. The other girls continued as a four-piece.
Although the group now had four "official" members, young Coleen appeared on their record covers in 1979, and in the video for the group's huge hit I'm in the Mood for Dancing. Anne left in 1980, and at that point Coleen became an official member of The Nolans, as the act was now called.
Coleen performed with the group until the 1990s when she left to concentrate on her family life with her children and her first husband, actor and singer Shane Richie, to whom she was married until 1999.
"Shane was in Grease for about four years, and I'd stopped working by then. He was doing well enough that I could stop work and stay at home and be a housewife. Although obviously after that our marriage fell apart [laughs]. So then we split up and I decided that I needed to work again. Luckily, I did have the opportunity. I'd done a few regional programmes and then had the chance to do Loose Women in '99. Thank God for that."
Coleen has earned quite a reputation for frankness regarding her private life and her relationships, and her autobiography, Up Front and Personal, surprised many people with its uncompromising revelations about Coleen's own conduct.
As Paul O'Grady commented when he interviewed Coleen for his television chat show, she was really quite hard on herself.
"I'd always said that if I was going to write an autobiography it would have to be the truth," says Coleen. "Otherwise I wouldn't write it. You can't leave out all the bad bits about yourself. Can't just skip over them."
That doesn't mean that she is particularly comfortable with exposing the most intimate aspects of her life, but Coleen recognises the hypocrisy that would exist in writing about other people in a warts-and-all style while glossing over her own shortcomings.
Coleen has worked steadily in television since her marriage to Shane Richie ended. In 1999/2000, as well as joining Loose Women, she also worked on ITV's This Morning. In 2009 Coleen took part in the fourth series of ITV's Dancing on Ice.
"At first I really didn't think I could do it, but then the kids were like 'Oh, please mum! Please do it.' And they're not normally like that. Ray was the same, telling me to just give it a go. So I'd have felt a bit of a wuss saying no."
Coleen had skated a few times before, but not on a regular basis, and she had certainly not done anything that would prepare her for what the show demanded from her.
"When I was young, we used to go on a Sunday and literally skate round in a circle, you know.
"But I couldn't skate backwards or crossover, and even skating forward... Ha! I thought, I'll be all right: I can skate forward. But skating forward technically correctly is totally different. It's not just a case of balancing. I used to do three hours training every day. It was so cold, and it hurts when you fall. And you fall a lot.
"When I got there I really didn't want to get knocked out in the first show. Going in the second show would have been fine but no one wants to leave in the first show. I actually ended up in the semi-final, so it was like six months in the end.
"I think it was the hardest thing I've done. Not just physically, although physically it was unbelievably hard, but emotionally as well. Everyone is scared at first, but they were all saying that once you get into it the fear becomes less. Well, it never lessened for me. Emotions were all over the place, and the fear didn't leave me for the whole six months. Every single Sunday I used to feel sick, and every single Sunday I'd wonder why the hell I was doing it.
"My first skate-off was in the semi-final, and I was so injured - I think the audience could see it. I had a displaced rib and a fractured rib. The physio said that I couldn't skate, so then the choreographers just asked me what I thought I was capable of, realistically. In the end we just had to do this silly routine where I was pushed about. I just couldn't practice, so I knew I was going out, and by that time I wanted to go out. If I had got through I wouldn't have been able to do what I'd have needed to do, so a part of me thought, Oh, no! What if they put me through?
"But I look back and I feel so proud of myself that I did it. Possibly along with our last tour I think it was one of the best things I've ever done. It was fabulous. A great experience: to challenge yourself and to face your fear every week.
"There were times when it really would have been easier to turn around and say I was pulling out - to tell them I was injured or something - but the longer I stayed in, even when I got really injured, I was like,'I can't pull out now. I've come this far, there's no way I'm pulling out.' Even if they'd had to push me out on a chair I was not pulling out. I'd be voted out but, even though by then I really wanted to go, I wasn't just going voluntarily by myself."
As if Dancing on Ice wasn't hard enough, all that work was in addition to Coleen's normal schedule. She still had to appear on Loose Women, intact or otherwise.
As well as her regular slots on major shows, Coleen has appeared on a range of other programmes from Never Mind the Buzzcocks, and The Paul O'Grady Show to a programme in which she underwent hypnotic past-life regression, apparently reliving a former existence as a teenage debutante. She certainly knows how to keep people guessing where she'll crop up next.
"You know what it's like in the business: 'we want you to do this, that and the other'. But until I'm actually doing something, I don't believe it. I just say,'Tell me when it's definite and I'll turn up'. Does Coleen think that she and her sisters will do another tour?
"We would really really love to. I'd like to do one more because we never expected the response we got to this one. We were really quite nervous that no one was going to come, but it was just massive and the crowds were fantastic. It was really quite overwhelming, so we would like to do one more." And how about a return to Japan, where they enjoyed such huge popularity?
"There was talk about us going back to Japan, but our fans back then were 12-16 year-olds. I was 15 back then, so they would be my age now. It would be nice, but it's very different with Japan. In Japan you really have to go over there with a product to sell, a single or an album.
We don't want to go that far. I loved the country, it was amazing, but I don't know if I could do it. I've never worked as hard as I did when I was in Japan. They don't believe in sleeping or eating because they just get in the way of work. But that is the way that works for them. We had our biggest successes over there but I think I may be too old to do that kind of work now. I was knackered at 15!"
Even though Coleen considers the Japanese work ethic to be pretty formidable, she is not exactly letting the grass grow herself when it comes to her career. Television, the reunion tour, the autobiography, fitness DVDs: she's been pretty busy. And then, of course, there is her new career in fiction writing.
"Yes, I've written my first novel, Envy, which is out now. That was great, and I loved doing it. It was top of the erotic fiction chart. Don't ask me why that is. It's really not that provocative. Maybe because it's written by a Nolan. But I'm thrilled. Maybe that's where I need to go: just write erotic fiction!
Story: Rick Cadger
Interview: Angela Banh
Photography: Stan Thompson
---
© Regtransfers 2011