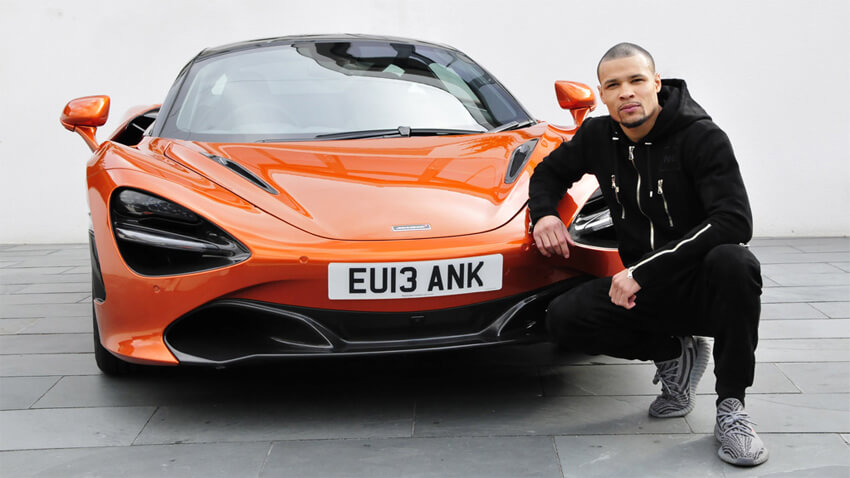 Chris Eubank Jr
Boxers… We do like to feature boxers in these pages, don't we? From heavyweight to middleweight and welterweight, we've featured a pretty good spread of styles and personalities. It might seem like a bit of an odd match, a private number plates magazine and a procession of professional pugilists, but boxers do seem to have an eye for nice cars and good personal registrations. And they bring out the best in our photographer: he's always so polite to them. We met Chris at his fashionable Brighton home, where we delivered his new private registration plates and took the opportunity to chat about his career.
The name Chris Eubank is not only familiar to fight fans: it is literally a household name. For Chris Eubank Jr this could be a blessing, a curse or both. While there must surely be a sense of a paternal shadow to be escaped by proving oneself and one's own career, the advice and expertise of a successful and respected father must give a young fighter certain advantages and inspiration.
"With the last name Eubank, there's always been a lot of pressure to perform. Everyone expected me to be as good as my dad was from my very first fight. It was tough to deal with but I used that pressure to make me train and fight harder.
"My big role models were Muhammad Ali, Roy Jones Jr, Sugar Ray Leonard and my dad, which goes without saying," but Chris Jr says it anyway. "My father's guidance and mentoring has been a big part of my development as a fighter. He's a valuable member of my team and I've learnt a lot from him."
Chris got his amateur experience in the USA, where he moved to as a teenager. First, though, he had to deal with staunch opposition from Eubank Sr, who was firmly against Chris taking up the sport. Chris Sr pointed out that young fighters from privileged backgrounds rarely feature in the ranks of champions and Chris Jr is the first to admit that his has been a life of relative luxury. Instead, boxing's giants tend to be from harder backgrounds, from environments where early life has a built-in toughening-up process, and the hunger for something better is a constant companion. Young Chris understood his father's argument and acknowledged the truth in it but he is on the record as saying that he doesn't like taking easy routes. Chris went ahead and fought and he did well, winning state and regional Golden Gloves championships.
Chris Eubank Jr turned professional in 2011. His first pro bout was against Kirilas Psonko. Chris Jr stopped the Lithuanian in the fourth round and subsequently went on to win his next 17 fights before eventually succumbing to a close, split decision against Billy Joe Saunders in 2014. At the time of writing, Chris has won 28 and lost two of his 30 fights. He has never been stopped and has won the majority of his bouts by technical knockout.
As a fighter, Chris, like his father, is clearly very aware of the risks the sport entails, not just to himself but also to his opponents. The shadow of his father's 1991 match against Michael Watson, during which Chris Sr's opponent suffered life-changing brain injury, still looms large and dark. Eubank Sr's rival Nigel Benn was the unintentional agent of similar lasting harm to opponent Gerald McClellan a few years later. Tragedies like that aren't forgotten: they resonate down the years.
Michael Watson's injuries were life-changing for Chris Sr too. His approach to winning changed and he no longer ruthlessly pursued a knockout by raining blows to his opponent's head: instead, he would often concentrate on body blows and settle for a win on points. This profound change in approach was evident in 2016 during Chris Jr's British middleweight title fight against Nick Blackwell. Blackwell was completely overwhelmed by Eubank and had taken such a beating that Eubank Sr intervened from his son's corner to request that the referee step in. He also instructed Chris Jr to concentrate on body shots to lessen the risk of serious injury to his flagging opponent.
In a subsequent interview, Channel 4's Matt Frei crassly asked Eubank Jr whether he would rather have his opponent in full health or retain his championship belt. Chris understandably berated Frei for the inappropriate and unfair question and declined to answer beyond saying that he wished Blackwell a full recovery.
So, although boxing is a sport, it is also a deadly serious business in every sense of the word. Not only is there a lot of money at stake every time two professional pugilists step into the ring but the lives and health of both fighters are also at risk. As Chris Jr has said, "This is not a game. You play football, you play cricket, you play rugby: you don't play boxing."
Small wonder then that boxers sometimes need to forget the grave nature of their craft and simply unwind and enjoy themselves. In our experience, nice cars are amongst the favourite diversions amongst top fighters and rising stars. In previous issues, we have featured Amir Khan, David Haye and Connor Benn, all of whom have shown a great enthusiasm for nice wheels and striking (get it?) number plates and Chris Eubank Jr shares this love of cars and plates. His choice of ride is impeccable and refreshingly different from the usual line-up of BMWs, Mercedes and Ferraris: it's not every day you pull up at traffic lights beside a McLaren 720s. It's not hard to guess where Chris Jr's love of cars comes from.
"My dad used to have a big truck and an Aston Martin, which attracted a lot of attention. When I saw the excitement on people's faces it made me want to get one for myself one day. My favourite car make is McLaren, of course."
Chris's first car was a Pontiac Grand Prix GT 2006 that he drove as a teenager living in Las Vegas and before his current McLaren Chris had a Mansory Bentley Continental GT Race bearing the ultimate champion's registration, 1 KO, that had been in the family for a while. Chris's new registration is more of a personal number plate: EU13 ANK is, hands down, the best possible representation of his name. No imagination needed, it is read-at-a-glance, as plain as day. Name plates just don't get any better.
To Chris, the pairing of car and registration is a natural match. "If you have a nice car they go hand in hand. I like bespoke and unique items. My dad still owns 111 KO at this moment in time."
A sensible boxer has at least the outline of an exit strategy from the sport. It's not something one can keep doing into old age and, as we've seen, careers can be cut short unexpectedly. "I know I won't be boxing for the rest of my life so I have to invest my money wisely," Chris says. "I'm investing in businesses and property. I'm also passionate about my own clothing range, NEXTGEN, and there are other exciting projects on the horizon."
So, although he is still very much focused on boxing and has stated his ambition to be world champion, Chris has given thought to his own future. What advice would he give to young boxers who are just starting out?
"I think boxing is an awesome career choice if you have the heart and mental strength to deal with what is, in reality, a lonely life to lead. There are no team-mates: you are alone in that ring and everything is down to you. Most people cannot deal with that kind of pressure, but I still believe it's a great sport for kids to get involved in as it channels a lot of energy that might otherwise have been used in the wrong ways. It teaches you self discipline and true responsibility."
"If you do choose to do it, then train harder than the person next to you and follow your dreams. Remain dedicated and never lose focus. Surround yourself with like-minded people who can help you grow. Make sure you watch, and have a say in, all the financial aspects of your career. Boxing is notorious for people stealing money from fighters or taking advantage of them in other ways. Be smart and be vigilant. Pay attention."
Interview: Angela Banh Story: Rick Cadger Location photography: Stan Thompson