Welcome to our auction bidding service
The numbers displayed on this page will be made available for sale at auction on the 23 November 2018
These numbers have never been issued before, so this is a fantastic opportunity to become the first owner of a desirable registration.
While it will be possible to bid online during the auction, internet bidding has proven unreliable and unpredictable. For this reason, Regtransfers auction specialists attend the auctions to bid in person in the sale room itself. In its 35 years or purchasing quality cherished registrations, Regtransfers has attended every DVLA auction. Our experience and record of success are unequalled.
We are confident that our in-person bidding service represents your best chance of winning the number you want at auction. In addition to the benefits of having our expert staff bidding on your behalf, you may also take advantage of our specialist advice on auction pricing, reserves etc.
The Regtransfers auction bidding service offers you a greatly increased chance of success. Our fee is 10% of the hammer price if we successfully acquire your registration for you, and you only pay if we secure your number.
Please click on the number plate that interests you to see guide price, reserve and other details. and it should show details (cost of buying at auction, reserve, image of plate, form to register interest)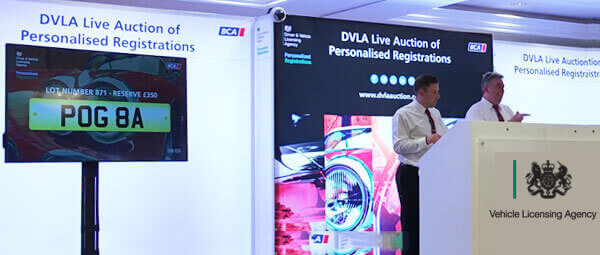 Click to Search all our number plates.
Need guidance? See How to buy a number plate page.
For number plates format information see Car registrations formats.
Plates In the Next Auction