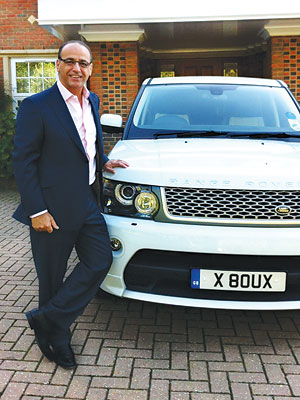 As you may have read elsewhere in our celebrity stories, Stacey Solomon has been chosen to be the 'face' of Theo Paphitis's new lingerie line, Boux Avenue.
Theo Paphitis is a retail expert, having revived the fortunes of notable brands such as La Senza Lingerie (UK), Contessa Lingerie, Ryman the Stationers and Partners the Stationers.
Theo is probably best known these days for his role as one of the 'dragons' in the popular TV show, Dragons' Den. Recently, Theo also starred in a new seven-part BBC TV series, called The Next Big Thing. The programmes looked at the exciting world of retail buying and the strategies and tactics adopted by potential suppliers.
Theo's latest venture is another foray into the world of fashion. As he explains, "Boux Avenue will offer an amazing lingerie and nightwear shopping experience for women who are looking for something truly special."
To celebrate his new clothing venture, Theo has adorned himself, or rather his car, with the perfect number plate, X8 OUX.
The 'Boux' plate was supplied by Regtransfers who, as regular visitors to this site will know, had previously indulged Mr P's passion for personal and business related plates with numbers like RYM 4N (Ryman),LA53 NZA (La Senza) and T1 HEO (Theo).