Signature Global - Marques of Distinction page 2
One of the great advantages of owning a business like Signature is being able to drive any number of luxury marques such as Aston Martin, Lamborghini, Porsche and Bentley through to Range Rover and Rolls Royce. Dee's personal preference is the Bentley GTC with its power, luxury and style, perfect for pleasure and relaxation. However, for day to day, practical use, a Range Rover remains his ultimate choice.
Dee's enthusiasm for quality cars is complemented by a similar enthusiasm for good quality private registrations.
"My first plate was M3 BOY, followed by M5 BOY. Those two were for my M3 BMW and M5 BMW. Both certainly reflected my age and personality at the time! They are still treasured number plates for their sentiments but not currently on any of the fleet."
His next car dictated his next number plate, which was 9 DEE for his 911 Porsche. The number partly reflected that car model but was also his house number at the time. 9 DEE was the first of several unbeatable name registrations. DEE 1, DEE 2 and DEE 3 soon followed.
"Plates like this have helped gain business, it is a point of interest and topic of conversation, a real ice breaker. It always makes people laugh and puts them at ease which is essential in business. It is certainly something interesting to talk about with clients," says Dee.
Signature has a host of plates that begin with 'S19' and 'S16' ('SIG') that promote the company's identity. These plates all have a variety of different endings to reflect the make of the vehicle including 'GTC' for Bentley GTC, 'VOG' for Range Rover Vogue, 'AMV' for Aston Martin Virage and Volante and 'HSE' for Range Rover HSE Sport.
Similarly, Signature has a range of plates for the Bentley Flying Spur Speed, such as SP12 FLY and SP11 FLY; the 'SP' and 'FLY' signifying 'Speed', 'Spur' and 'Flying'. The Mercedes AMGs all end in 'AMG' and of course the Lamborghini LP560 Spyders have the number plates LP58 SPY and LP56 SPY which also highlight the car model LP560 and the name 'Spyder'. The Porsche Boxster has plate BX12 TER and the Vianos follow a similar pattern including V5 ANO and V2 ANO.
As well as the business number plates, Dee couldn't resist purchasing MI55 DEE for his sister, Jyoti, when she joined the business. Many contractors and labourers working for the family at the time assumed her name was Miss Dee because they had always addressed Dee as Mr. Dee. He never corrected them and found it very amusing when Jyoti actually started answering to that name.
www.signatureglobal.co.uk
Interview: Angela Banh
Story: Rick Cadger
Photography: © Signature
1 | 2
Free Magazine
Fantastic FREE magazine stuffed full of number plates information and stories.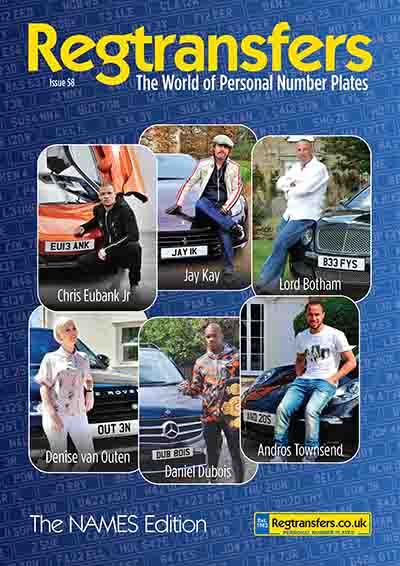 Order your free copy