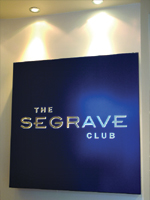 The cost of Segrave membership, even though it brings exclusive opportunities and benefits that many drivers could only dream of, is significant. What kind of person is willing to spend that kind of money?
"On the whole, they are experienced supercar owners, who want to be able to satisfy the urge for the very latest contemporary metal (which we always get very, very early due to our exceptional relationships with the manufacturers), without the hassle. Some people are drawn to the events, which are 'money can't buy' experiences like choosing the next additions to the fleet at Press Day of the Geneva Motor Show, or the chance to wish the drivers and crew of Aston Martin Racing good luck at the Segrave, before they set off for Le Mans. We've also got the most thorough and scientific driver training programme on the market, which takes members and their partners from their current level of driving as far as racing if they wish."
Which car is currently most popular with members?
It's the Ferrari 599, which is probably partly due to the fact that members can actually phone up and book it! However, the new cars always get a initial burst and so the DBS, which has polarised opinion in the press, will probably be pretty popular for a time while members get the opportunity to make their own minds up about it."
We can't help wondering if part of Nick's motivation in forming the Segrave Club might be a desire to personally test drive the cars that he offers to his members."Well, it would be rude not to, wouldn't it?
The cars do need running in, and are always checked over to make sure that they are absolutely perfect when handed over to members, so I do get quite a bit of seat time, as it were. Although I worked for Ferrari for many years, I have to admit to being a bit of a Porsche fan nowadays so the GT2 is probably my favourite at the moment. But ask me again tomorrow, and it'll probably be something else. That's the joy of the Segrave!"
The Segrave Club was very happy to have its fine cars model Regtransfers' exclusive number plates. Great cars and great plates obviously make a striking combination. What are Nick's feelings about private registrations?
"We don't tend to run the cars on private plates because we're rather proud of always having the newest fleet around. That said, we do have V12 CPE on one of the Astons, as it does look rather smart. I'm a big fan of private plates in general, so if N1 CKH were to come up…"
Rick Cadger
Photography: Stan Thompson
1 | 2