As a child I remember my father reading the Sunday Times, searching for his ideal number plate. Dad never made a purchase but it influenced me enough that, at the age of 23, I bought my first private number plate.
This plate was PBO 4. It has remained with me for nearly 25 years and is one of my treasured possessions. I think that once you have the bug for a private registration it never leaves you and, over the years, I have added to my collection to the point where all of my cars have a private registration of some description.
My personal favourite is PAU 1B, which sits on my Bentley Arnage T, followed by P4 ULB, which is on my Ferrari Enzo. This is a fantastic vehicle to own and I regularly use the car on the race circuit at various track days throughout the country. This car never fails to get the pulse racing every time that you drive it.
My other favourite number plate is C4 LLS which is on my Ferrari F40. I have owned this classic Ferrari for nearly four years and, like the Enzo, it regularly sees track use. This plate clearly reads 'calls' and, running a telecommunications business meant that when this number plate came up for sale I had to have it. Our company is Worldwide Group which, in addition to offering discounted telephone calls, also supplies freephone numbers, non-geographic numbers (including the changeover from 0870, which is undergoing major changes at this time), telephone systems, maintenance, broadband and the complete range of telecommunications equipment.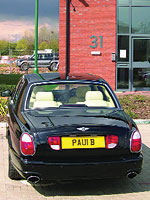 I have, therefore, purchased a number of cherished number plates which are linked to the business. These plates include M3 WWG which is on retention awaiting my new V8 BMW M3, V8 MRB which is on my Ferrari 430 and V12 WWGwhich is on my wife Selena's Aston Martin Vanquish S. She also has her perfect number, S31 ENA, on a Mercedes SL55 AMG.
I have a number of additional plates which reflect the vehicle engine size and are linked with my name. These include V8 MRB which is on my Ferrari 360 Spyder,V12 MRB which is on my Lamborghini Murcielago and V1 OPB which is on my Porsche Carrera GT.
My Ferrari 355 Challenge has the plate 355 NO.
I have also recently purchased from Regtransfers 911 PB, for which I have been searching many years. This has been registered to my Porsche 911 (997) Turbo and will continue to be displayed on my latest 911 in years to come as this plate is clearly one for life. PBO 4 resides on my Porsche 911 (996) Turbo S.
We also have some more modest number plates, including R2 BHP which was the original registration number supplied on my Porsche 911 (993) Turbo S and the very recent purchase of R500 MRB for my TVR Chimera.
What a great collection! But our search for ever more interesting number plates will continue with the help of Regtransfers.co.uk.
Paul Bailey
Peterborough
www.worldwidegroup.co.uk