Paul Karslake, Artist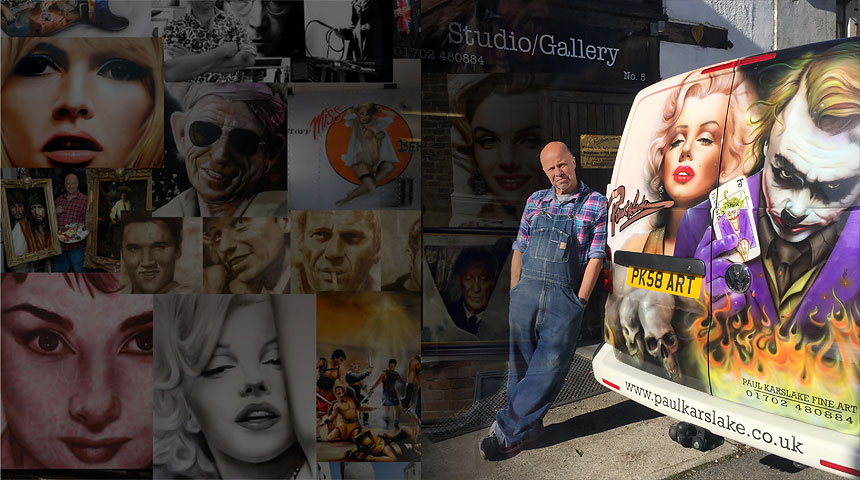 "As one of the world's top airbrush artists I have to look professional," says Paul Karslake, "and Regtransfers helped me do that with my ultimate registration, PK58 ART."
Even before he won his first County Art Prize at the age of eight, Paul was immersed into the Art World. Paul's father, Mike, was a renowned architectural model maker. From Mike, Paul was taught business ethics, form and perspective – attributes so lacking in many of today's working artists.
After College, Paul joined his father in his business and assisted on many famous architectural projects such as the Grade 2 building Centre Point, on London's Oxford Street, the Thames Flood Barrier and working models for the Concorde Pilot seat.
Paul travelled to the States for what he imagined would be a three-week holiday. He stayed four years. Soon after arriving in America. Paul was working for Los Angeles Art Studios, CBS Television and Disney with whom, years later, he was to work on the EuroDisney Project.
Early in the 1980's Paul was back in England and formed a company, The Art House, to control his ever-expanding art business. In 1990 Paul was commissioned by the Wiggins Group Plc., to produce a 650 ft long artwork hoarding for their South Quay site in London Docklands for which he was awarded The Evening Standard Environmental Award. In the same year, Paul was elected as a Fellow of the Royal Society of Arts (F.R.S.A.)
Under the guidance of Derek Johns, ex-Director of Sotheby's and Old Master dealer in St. James's, Paul decided to further strengthen his ties with the Fine Art market. In 1995 he undertook a commission for some very large Still Life paintings for the restaurant that became Gordon Ramsay's Petrus, in St James's, London. He followed up in 1998 with a solo exhibition at Derek Johns Ltd., in Duke Street, SW1.
In 2001, the Paul Karslake Fine Art Gallery and studio was opened in Leigh-on-Sea from where Paul's artistic talents have further brought him worldwide recognition. His paintings of iconic and popular figures, from the likes of The Rolling Stones, Johnny Depp, Sir Michael Caine and Grace Kelly are hanging in the homes of the famous and infamous and form part of many corporate and private collections in the UK and around the world.
Paul is passionate about sharing and explaining his skills. He takes an active part in supporting children wishing to do work experience, tutors at schools, and demonstrates at Art Groups. In 2005 The Karslake Centre for Art opened at The Cornelius Vermuyden School and Arts College, Essex.
Paul's celebrity clients include Sir Michael Caine, "who collects my art," Brian May, "whose guitars I paint," and Keith Richards, "who has paintings and a guitar," Mohamed Al-Fayed and Yeardley Smith (the voice of Lisa Simpson), to name but a few.
He has also extended his talents to other mediums including design and artwork for the Virgin F1 racing cars and some monumental scale commissions on commercial aircraft, coaches and even the Radio 1 roadshow trucks.
In his spare time, Paul enjoys singing and playing bass guitar in a band. But he is also a keen motor sport fan and tells us that he is currently building a Lewis Hamilton F1 tribute Mercedes and adds that, "I am looking for a registration for it!"
"PK58 ART says it all," Paul concludes, "my initials, year of birth and what I do for a living, so when I turn up at one of my A-list celebrities mansions to deliver a commission, or just driving on the motorway, I am highly visible.
"I had a very professional and problem-free service from you guys," says Paul, "and I was impressed by the speed of the whole process."
www.paulkarslake.co.uk
---
More great examples of businesses taking advantage of the marketing power of private number plates:
Free Magazine
Fantastic FREE magazine stuffed full of number plates information and stories.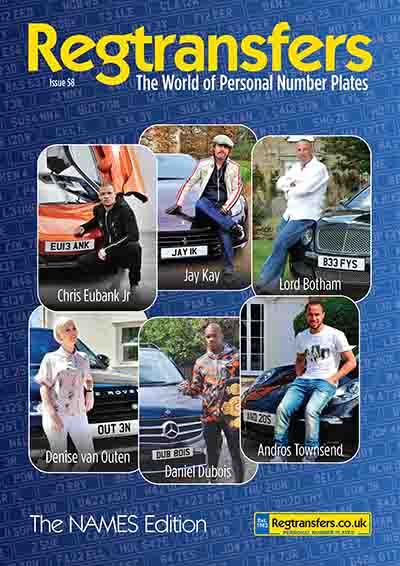 Order your free copy