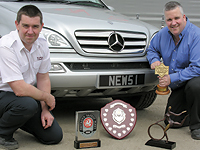 Bedfordshire-based News Transport Ltd., was established in 1973 by husband and wife, Dennis and Barbara Footitt. The company has come a long way since the early days, when it provided just a courier service to the motor industry. Through sheer hard work, the company grew and created the need for more vehicles and staff.
When business was adversely affected by a down-turn in the motor industry, Dennis and Barbara decided to change direction and offer their services to the food packaging industry. This proved to be the right move and the company began to flourish once again.
In 1983 their son, David, joined the company with the intention of staying briefly just to learn the business. He was still there a year later when younger brother, Ken, also joined the firm. They both became more and more involved in the day-to-day running of the business and quickly identified the need to increase the size of their vehicle fleet in order to gain new business. Their success eventually allowed their parents to hand over the reins and retire early to live in Cyprus.
As the company continued to expand, David (now Managing Director) and Ken decided to re-locate to freehold premises in Ampthill, South Bedfordshire. They recently finished a complete refurbishment of the site, which now comprises brand new offices with training facilities, a warehouse four times the size of its predecessor, and a huge loading bay to accommodate the new double-decker and rigid lorries that have become part of the fleet.
The most recent, and biggest, change in the company's fortunes occurred when a French distribution network called Fortec approached them. They were establishing a network of distribution depots to provide overnight delivery of palletised freight throughout the UK and needed a company like theirs to cover the South Bedfordshire and North Hertfordshire area. David decided to give it a three month trial, but it was such an instant success that he called them after just three weeks and asked for a contract.
The company hasn't looked back since and has gone from just five customers to over 300, none of whom represent more than 9% of the business, thus avoiding having all their eggs in one basket. Fortec, along with their computerised transport system, has been a revelation, allowing them to offer guaranteed delivery anywhere in the UK at very competitive rates with full 'track and trace' barcode technology.
Shortly after they joined the Fortec network, Pat Moore joined the company as a sales person and spent the next four years developing and building a customer base. He eventually moved into the office to run the traffic side of the business and was responsible for the company attaining ISO 9001:2000 in January 2004. This in turn led to numerous prestigious awards such as: Motor Transport Safety in Operation, Britain's Safest Fleet and the Fleet News Safety Award.
David's interest in private number plates dates back to the late 1970s, when dad, Dennis, purchased 222 YL,D 123 and DEN 80. He introduced them onto the company lorries, realising that they would attract attention and become a great means of advertising. In the mid-1990s he bought YDH 1, which was to represent a proposed company called You Drive Hire.
This was put on hold when the Fortec contract came along and David decided to look for number plates which reflected the newly found business, initially purchasing N11 EWS to go on a new Escort van. This immediately created a lot of interest, so he decided to add N22 EWS through to N99 EWS to enhance his collection of distribution lorries.
David's enthusiasm for personal number plates impacted on his private life when he treated his wife Jeanette to 72 JF as a birthday present and himself to 72 DF for his pride and joy, a Honda Fireblade motorbike.
More recently, David had been looking for more dateless 'news' registrations and came across NEW 51 in a Regtransfers' advert in The Sunday Times. He just missed out on the purchase but top sales advisor, Chris Dixon, called shortly before Christmas 2007 to tell him the number was up for sale once again. David snapped it up without hesitation and, while the transfer was in progress, Chris also found NEW 593, NEW 5N andN3 WST.
David is absolutely delighted with them and the service he received. "Regtransfers are definitely the first port of call whenever I or my colleagues are looking for a special number plate," he said. "And your sales advisor, Chris, has been especially helpful.
"I really appreciate good service, as it's something we as a company also try very hard to promote through all aspects of our business."
Len Stout