When we first went to see George Devlin  he was just starting out with a new concept hiring out roll-on, roll-off, easy-access minibins. Four years on, his original fleet of just four vehicles has grown to ten, and the business is expanding rapidly.
George's passion for putting private number plates on all his vehicles has led to a successful partnership with Regtransfers.co.uk, who have been pleased to help.
With all ten vehicles sporting their own registration, George has now realised how easy it is to administer and track them during the course of the working week. They have all become known by the prefix part of their registration, e.g. R10, R20 etc. "All the staff at Regtranfers have been extremely helpful, efficient and even imaginative," George says. "When they suggested putting S500 GAD on my new Mercedes S500, I was over the moon. I was just going to put the next sequence of GAD numbers on it. Thank goodness I didn't, it looks fantastic – the perfect pairing in fact."
George attributes his own success largely to his character. "If you don't have confidence, self-belief and a strong will to succeed, then you shouldn't be in business," he says. Flexibility and the ability to adapt to meet market requirements are also crucial. "Nowadays we can shift rubbish all day every day, including Christmas and are geared-up to take on large, difficult access jobs as very short notice. I can't think of any other companies in this game can say that."
George readily admits that some periods during the past four years have been a bit tough. He got very little support from the banks, who would give him only a small working overdraft. If it hadn't been for some very good friends, things may have turned out rather differently. At one point George's postman gave him the nickname "Default Devlin". George can laugh now, but during those difficult days it was sometimes hard to smile.
Hard work and self-belief got him through the hard times, and now the company is growing at a substantial rate. Turnover has increased four-fold in as many years and as the use of minibins became more convenient, popular and cost effective, George ploughed the profits back into the business, buying more vehicles and adding to his growing collection of company-related number plates.
Recent changes in legislation regarding waste collection have helped make the use of minibins far more competitive. His vehicles don't need to have tachographs fitted and the amount of waste disposed is now weighed and doesn't just rely on the size of skip. This means that George's drivers can work the necessary hours and because of the lower operating costs, they can deal with the same amount of waste as larger companies, but at a far better rate. That coupled with the fact that the minibins can get into places that normal skip lorries can't gives him a great advantage.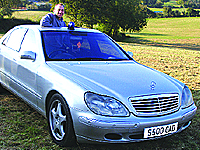 George believes that he now has a franchisable business and has even had enquiries to that effect. Even though the idea makes great business sense, George is not ready to pass control on to other people just yet. He worked hard to see the company through the difficult times, and now business is good he says, "I'm here to stay. I want to enjoy the business that means so much to me
– well for now anyway".
Len Stout
www.minibins.co.uk
Tel: 0845 456 1996