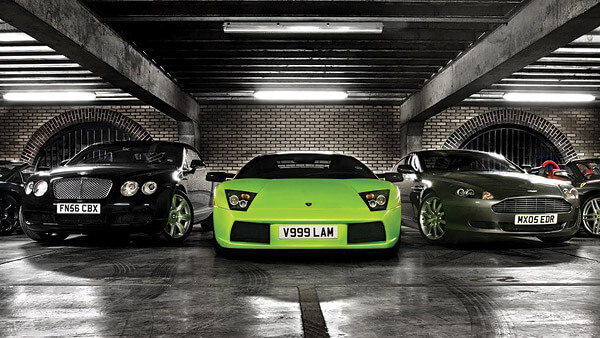 More than just a supercar club…? écurie25 explain how the key to their success lies in offering more than just the best cars in the world…What is the first thing you think of when the word 'supercar' is mentioned? Speed? Luxury? Extravagance? Well… you would be right – all of these things appeal to the current 150 members of the UK's largest supercar club – écurie25, but there's more to this club which keeps their members renewing year after year.
Supercars are about a lifestyle choice, and écurie25 consistently makes sure that in every way possible they offer their members just that little bit more luxury meaning that as an écurie25 member you really will be getting access to a service you will not find elsewhere.
First of all some facts – écurie25 currently have a fleet of 16 cars which includes an Aston Martin DBS, three Lamborghini Gallardos, two Ferrari F430s through to a Maserati Quattroporte and a Porsche Cayman S – meaning there is something to suit every occasion. Their unique credit system for mileage and car time also means that you can use your membership in any way you wish – either burning it all up in a once in a lifetime European tour in a stunning red Ferrari F430 or enjoying the use of a fully serviced, valeted and immaculate Porsche Cayenne for weekend trips all year round with the whole family.
This is not all – écurie25 are constantly adding to their fleet – with the addition of the new Jaguar XKR Cabriolet less than a month ago they are already champing at the bit to get their hands on the Ferrari California which will be arriving in just a few weeks time. So an exceptional range of cars which is constantly changing – this is exactly what members are looking for in a supercar club, but what more are écurie25 offering which has meant they are succeeding where so many others have failed?
Service. This is where the difference lies and why écurie25 members keep coming back for more. Ecurie25 have been around long enough to know their membership base inside out – these are extremely busy people who have joined their club to avoid any of the hassle of supercar ownership and who expect to have everything taken care of, and this is exactly what écurie25 have done.
From the very simple online booking system which makes availability of the cars apparent to all members right through the pick-up and return options which mean you don't even have to leave your office to get your weekend started – your car will be delivered to your door so you can just jump in and go.
Or you may prefer to drive your own car to the perfectly located écurie25 clubhouse in Kings Cross where you will be able to enjoy the members lounge facility and talk to the extremely knowledgeable staff, knowing that upon your return your own car will be handed back having been fully valeted and with any minor repair work that you may have wanted, all done.
The quality of service for an écurie25 member does not however start and end
---
More great examples of businesses taking advantage of the marketing power of private number plates: