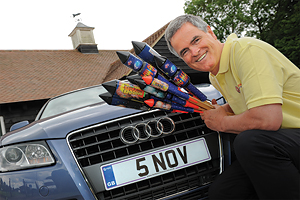 A man called the Fantastic Fireworks office last year asking who owned the car he had seen outside with the registration plate 5 NOV. When told it was Jon Culverhouse, managing director of the company, the man said he'd been following the car down the M1 and had looked up the plate on the internet. He was so impressed by the registration and how appropriate it was for the company that he booked a firework display there and then.]
"I've lost count of the number of times that people stop and point out the number plate," says Jon. "Sometimes they come up and ask if it's my birthday. A fit of the giggles always follows when I tell them I run a fireworks company."
This is a special year for Fantastic Fireworks as they celebrate 25 years in the business. For nearly half of those years, Jon has had his 5 NOV number plate. It's been on a Peugeot, a Mercedes and now the sleek new Audi A5 convertible where, Jon says, its lean good looks match the car perfectly.
"When I first had the idea to see if 5 NOV existed as a number plate I was certain it would be owned by a collector of similar plates, such as JUL 4 and DEC 25. I had mentally prepared myself to have to pay up to £20,000 to own it.
---
"I've lost count of the number of times that people stop and point out the number plate."
---
I phoned Regtransfers and, to my amazement, not only was the plate available but I could have it for a lot less. Needless to say, I snapped up the offer and have never regretted it. It has featured in countless photos, the national press and even on the Men and Motors TV channel. I can't think of a more effective or appropriate ad for the company."
Jon founded Fantastic Fireworks in the Hertfordshire village of Redbourn in the mid-1980s. Today Fantastic Fireworks are one of the longest established companies in the UK pyrotechnics industry, putting on more than 300 professional displays annually, while their network of shops supply the busy Bonfire Night market with domestic fireworks. Further afield, Fantastic Fireworks have been setting firework fashion from St Petersburg to St Albans.
In 2007, Jon and his company helped the City of Liverpool celebrate its 800th birthday with Europe's largest display of the year, and in 2008 were official firework supplier for the city's year as European Capital of Culture. Fantastic Fireworks also has an impressive list of celebrity parties on its CV, including Sir Philip Green's 55th birthday in the Maldives and footballer Thierry Henry's wedding.
Every year dozens of prospective pyrotechnicians take Fantastic Fireworks' professional training course, adding to the 150-strong team who front their busy Bonfire Night programme.
Several charities, projects and individuals have benefited from the company's success, as Fantastic Fireworks donates funds to a variety of causes, including tree-planting in Harpenden, fund-raising for Keech Hospice Care in Luton, a local football team and several schools.
In the field of competitions, Fantastic Fireworks was first winner of the British Fireworks Championship in 1997 and has also competed at San Sebastian, Cannes, La Baule, Plymouth and Southport.
Jon says, "Our aim is to surprise and delight audiences across the country.
We source the latest and most exciting fireworks from the leading manufacturers and pride ourselves on bringing the 'WOW! Factor' to every show."
www.fantasticfireworks.co.uk (displays)
www.buyfantasticfireworks.co.uk (shop)