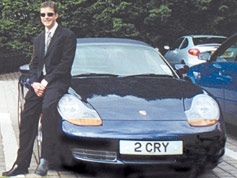 An eye-catching number plate, 2 CRY brought tears of joy to Nigel Lowe, A & R boss at London based 'Cry Records' when he set eyes on it. He just couldn't believe his eyes.
Nigel recently purchased the number plate from Regtransfers.co.uk, and he says, "It's a great plate to be seen with and fantastic for the company image. I saw it advertised as I surfed the internet and thought it would be the perfect 'on the move' promotion for Cry Records."
The number plate is currently assigned to Nigel's smart Porsche Boxster, and he welcomes the attention it draws. Cry Records is a young company based in Covent Garden. The company searches for new talent to sign and contract out to the major labels. "In the image-obsessed world of pop, standing out from a crowd is everything" says Nigel. "Having a personal number plate with the company name on goes a long way to achieving this," he added.
Nigel says that the number plate was also bought as an investment. Marketing Manager at Regtransfers.co.uk, Len Stout said, "Companies tend to buy personalised number plates with investment in mind so that if they need to raise some cash fairly rapidly, they can sell them without too much trouble. When a number plate is associated with a company, it can often command a higher price than usual because of the exposure it has had. We are very pleased that thousands of our customers come back to us when they want to sell their number plates."
24 September 2001