I'm 27 years old now, but the story really starts 10 years ago when I purchased my first personal registration at the age of just 17.
I had just passed my driving test and bought a car but still had a bit of extra money left over. As with most youngsters the money was burning a hole in my pocket, so my dad, (who has A9 OPT, suggested that I buy a personalised plate to add the finishing touch to my car. So I did. In November 1995, I purchased A12 WET as in A1 (the best), 2 (to) and the initials WET for Wayne Edward Turner.
Several years later I met my partner Michelle. One Christmas, I remembered how she had often said she would love her own personal registration. I thought it would be fantastic if I could get one for her as a surprise present. So I began looking for something suitable. To my surprise J80 MLT was still available, J (for June), 80 (for 1980) and MLT for Michelle Lesley Targress, which I bought in September 2000. Needless to say she was overjoyed.
Happy motoring continued for a while, I saved hard and bought my dream car, a BMW M3 Convertible, which displayed my A12 WET number plate with pride. Through my own fault I had and accident and damaged the car quite badly. I claimed on my insurance, which in turn pushed up my premiums for the following year making them far too much, so the car had to go.
Once again the money from the sale was burning a hole in my pocket. Flicking through an AutoTrader magazine a few weeks later, I saw a big two-page spread from Regtransfers.co.uk advertising thousands of registrations, one of which was WAY 17E, basically my ultimate number plate. I phoned to ask the price but it was a little too much at over £11,000. Over the course of the next two days and a few price-bartering phone calls later the registration was secured for around £9500 including VAT, which I was more than happy to pay for such a great plate.
So the WAY 17E plate went onto my new, cheap-to-insure, car, whilst A12 WET was put onto a brand new road legal, quad bike that I fancied getting as a fun vehicle to mess about on. Since then I've seen a few other road legal quads but none displaying a personal registration. It definitely turns heads wherever I go prompting me to wonder if my accident was fate as I had never seen the WAY 17E registration advertised before then.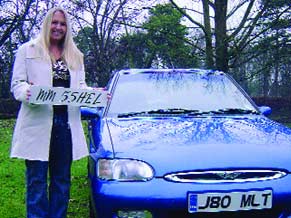 I now have the number plate bug, so when the "55" plates were released, I looked for a nameplate for my partner. In June 2005, even before the "55" plate cars were out on the road,
I purchased MM55 HEL at a reasonable price having previously looked for a Michelle plate but finding nothing available that I considered to be any good. I am, for the time being, holding this on a retention certificate, as we don't have a vehicle new enough to put it on.
My most recent purchase was in November 2005 when I acquired P333 TAR (Peter) for my dad. This is his surprise 60th birthday present in June 2006, although he already has A9 OPTwhich doesn't really mean anything apart from the PT part, although we have always taken the Mickey out of him, saying it means Old Peter Turner. I'm sure he will love his new number plate because he has always wanted to improve on his one for quite some time and I thought this was a nice way of saying a big thank you for all he has done for me. I am confident the A9 OPT won't go to waste, as that will probably be transferred to my brother's car. His name is Philip Turner, at the moment he's not interested in personal plates but I'm working on him and it will be a starting point.
About three years ago my dad bought my step mum M5 KLT, (Ms Kirsty Lorraine Turner), so it really is becoming a family affair. I'm the most fanatical one by far and I'm tempted to buy T3 RNA (Turner). It's available, but I can't quite justify paying the asking price at the moment, firstly, because it would end up being on retention and secondly I'm being made redundant this year.
But who knows, with that redundancy money burning another hole in my pocket, I might just treat myself one more time!
Wayne Turner