Vernon Wood recalls half a century of private vehicle ownership, with many marques (and sadly, rare plates) that no longer exist . . . Unless you know otherwise?
Like many drivers in their seventies, I have owned a number of motor cars which, had they survived, would have commanded premium prices as veterans of a bygone age, treasured for uniqueness, rarity or even for sheer cussed eccentricity. My own tally of ownerships since passing my test in 1954 is 34, and as you might expect, the earlier ones are the most interesting.
From the viewpoint of a carplate number-nutter, even more intriguing are the registrations that went with the cars, and I can only shudder to think of the small fortune that has slipped through my fingers in the past half century as I sold both car and plate for a few paltry quid.
Hindsight is a wonderful thing they say, but for my money foresight is a more valuable attribute, which, (had I been blessed with it in relation to 'old bangers'), might have funded the annuity of which my Equitable Life pension plan promised so very much, but delivered so very little.
Whoopee
My first car was built the year I was born, and came into my possession 23 years later. It was a pert little Morris Minor 2 seat ragtop tourer (sporting hand-knitted seat covers!), with spare wheel mounted on a delightfully curved rump which Angelina Jolie might envy. 'Whoopee' as she became affectionately known (WP 2804), was purchased for £45 jointly with my parents. (They were anxious to divert my petrolhead aspirations away from the Panther 250cc OHV motorbike I had secretively acquired by swapping a camera worth £5, without parental approval). The bike had originally emerged from the Phelon and Moore factory at nearby Cleckheaton in 1937 as a gleaming sample of 2-wheel technology, but was now a rusty wreck which I rebuilt rather badly into something of a death-trap. I recall having to wear fishermen's waders to ward off the oilspray that emerged from the engine's valvegear at speeds over 20 mph.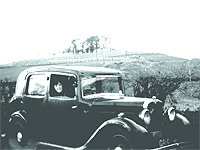 I sold it two years later for £10, the rebuild having cost £25. My only memory of the registration was the letters VNW, which today, would have been an ideal initialised plate for myself and wife. C'est la vie.
'Whoopee' was bought subsequent to my disastrous failure at my first driving test, so that I could get in much more sorely needed practice before the re-take.
Six point turn
The first test had followed a fivers-worth of six, 30 minute driving lessons, and comprised a 15 minute tootle along the back streets around Headingley Cricket Ground before ending rather prematurely and ignominiously halfway through what was shaping up to be a six point turn. It seemed that an elderly, bulbous, sluggish, dual-controlled Morris Oxford fuelled on kangaroo juice was not a suitable car in which to learn to drive, or indeed, hope to pass a driving test.
The qualified driver who later accompanied me on my practice runs in 'Whoopee' was a neighbourly bus driver, a jovial chap whose 6′ 3″, 18 stone body made a dramatic contrast to that of myself as a 5′ 6″ stripling of 10 stone, as we sat side by side in a rakishly lopsided 2 seat Minor, evoking memories of Laurel and Hardy motoring classics.
Incongruous it may have been, but it gave me the road sense and practice I needed as we chugged around the pre-motorway roads of West Yorkshire, hood down, myself frantically hand-signalling at every junction, and rarely putting in a burst of speed up to 45 mph…only providing it was downhill with a following wind.
Other fond memories of 'Whoopee' include the over-ambitious drive from Leeds to Edinburgh for my annual RAF Reserve training course, undertaken the day after I had (only just) passed my driving test in Huddersfield.
The adventure ended a few days later when I had to abandon the car on a weekend run to Loch Lomond, by whose bonnie bonnie banks 'Whoopee' just whimpered and gave up the ghost with a smoking, red-hot differential casing. How was I to know that I should pump grease into the back axle every 1000 miles? She was towed into Helensburgh on the Clyde, repaired and collected by myself two weeks later for £27.00…plus bus fare from Leeds of 30 shillings.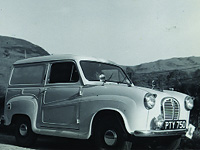 'Whoopee' was sold in 1954 to a student for £35, and was last seen some 5 years later looking rather forlorn in the forecourt of a garage at Aberford on the old Great North Road.
Today, not only has 'Whoopee' disappeared, but also the garage and indeed, the old A1 road itself at that point, replaced by eight thundering lanes of the recently extended M1 motorway.
She was followed by another joint family venture in the form of KUM 480, a gunmetal grey 1947 Vauxhall 10 which set us back £330, a prodigious sum in those days virtually my annual gross income. It was only financed by splitting the purchase and running costs 3 ways with my parents on the understanding that every weekend would include a trip to coast or country, and I would provide a family taxi service with 24/7 availability. A fair deal I reckon.The car was sold 18 months later for £250, and the proceeds split three ways to help fund my move from home to digs in Newcastle, where I moved to a new job with a Tyneside advertising agency.
Minnie the Minx
As my next car had to be financed solely by myself, I had to revert to pre-war vintage, so I lashed out £85 on a 1936 Hillman Minx 10, a battleship grey, 4-seat drophead coupe with 35,000 miles on the clock and no – I didn't believe that of a 21 year old car either.
'Minnie' was registered in Middlesbrough as XG 4070. She boasted novel Bendix cable braking which tended to throw the car into a spin when driving forward, and to be totally ineffective in reverse. This feature I discovered when reversing down the ramp to board the Isle of Wight ferry, guided only by the warning shouts of nearby passengers and the terrified screams of my passengers.
My forthcoming marriage enforced the sale of 'Minnie', which had undergone a hand repainting job in a Jesmond back street, and where the slow-drying paint had acquired a surface coating of grit, the spinoff by-product of a mini-tornado which circled the area for an hour or so. I was quite chuffed to get £65 for it, which bought one rug, two carpets and a 3-piece suite for our home at Whickham, overlooking the Tyne valley.
It was a couple of years before we could afford to rejoin the ranks of what was then, the motorised minority. Our auction choice of a sombre black 1939 Morris 10 saloon for £35 was hurriedly reversed after we discovered on a run to the Cheviots that it had consumed 3 pints of oil on a 100 mile trip, laying a blue-black haze of Castrol across the Northumbrian countryside. Our seven day ownership had cost £5, the experience being so briefly traumatic that I never stopped to record the registration number or enquire about its ultimate destiny – the knacker's yard would be most appropriate.
Granfer
Licking our wounds we next fell for an even older 1934 Morris 10/4 in a fetching green/black duotone for £45. It was a special bodied 4 door saloon with custom built aluminium coachwork, leather seats and a horizontally split, opening windscreen – a very distinguished looking elderly gentleman of a car whom we promptly named 'GRANFER', not least because of the unique registration GR 4. 'Granfer' served us very well for almost two years, transporting us up and down the A1 between our new home in Newcastle and our friends and family in West Yorkshire.
This was shortly after the Suez crisis when petrol rationing was re-introduced, so we had to conserve our petrol coupons (supplemented by a couple of black market tanks full) for the bi-monthly visits.
It was during the winter of 1958 that we discovered Granfer's eyesight was failing, so I replaced the individual headlights with a pair of Lucas P100 units of 12″ diameter – huge searchlights cannibalised from a wrecked 1938 Jaguar SS100. Regretfully, the car's dynamo was not up to the job, providing a mere glow-worm of light for those after dark A1 trips, made all the more hazardous in wet, wintry conditions by a single, 6″ windscreen wiper that swept spasmodically.
It had to be assisted by hand operation in hard-driving rain, so I suppose we were something of an accident waiting to happen, but happily we survived.
However, Granfer regretfully underwent a major mechanical catastrophe on one of our visits to Yorkshire. Driving uphill at near maximum revs (probably around 2000 rpm in this venerable side valve engine) a cacophonous metal-to-metal clatter announced the appearance of a piston rod as it punched its way out of the side of the engine. A write-off, no less.
Mad Medley of Morley
I placed the car into the care of a Mr Frank Medley, a self employed car service engineer and a man whose eccentricity had led to his featuring in the national newspapers some years earlier. (It seems that following Frank's major overhaul of a Rolls Royce, the local customer – now fallen into dire financial straits – had been unable to pay in cash and had settled his bill in kind by passing on his top hat and tails, once worn at Ascot).
For years afterwards, Frank wore the toff's togs in lieu of overalls, winning a name for excellent work, if oddball appearance. So Frank took control of our crisis, towing Granfer into his lock-up workshop, and started to scour Yorkshire scrapyards for a 25 year old 10/4 engine, whilst we returned to Newcastle by bus.
1 | 2