Remember the cars you lusted after as a teenager but couldn't afford to insure let alone buy? Well the good news is that whilst depreciation is normally the motorist's enemy when it comes to bagging a bit of nostalgia its effect are very welcome.
Those shiny new motors from the 1980's are now very definitely used cars and prices are as low as they will ever be!
And cars from a couple of decades ago are a very sensible purchase, they will keep up with modern traffic have good parts availability and are unlikely to depreciate any further.
Last summer I fulfilled one of my teenage kicks when I bought a very tidy 1987 Audi GT for just £450, 12 months on I don't regret the decision one bit. So what are you waiting for, go on, enjoy a bit of motoring nostalgia with a car from your motoring past that can now be bought for a fraction of what it once cost new.
Peugeot 205 GTi 
£400-£1,000
Both the 1.6 and 1.9 feel genuinely lively, if a little tinny compared with more modern cars, and the cars' cute lines became the benchmark for supermini design for an entire generation of cars.
Whether your intent is to strip one out and take it to track day or leave original and drive to the shops you'll end up with a grin so big that it will end up cracking your face.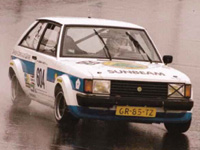 Talbot Sunbeam Lotus
£3000- £5000.
It may sound like a lot of money for a car from 1980 that only cost £7,500 brand new but the Sunbeam Lotus has serious credentials. Fitted with a 150bhp Lotus twin cam engine it was not only the quickest hot hatch of the day but also the only one with rear wheel drive. Get a mark one in the original Silver and black colour scheme and you have an appreciating classic on your hands that is a hoot to drive.
Cavalier SRi 130 
£250-£700
Now a pretty rare sight on the roads because most were crashed or just rusted away. They have a lot less bling about them than the XR4i, which was Ford's equivalent at the time, but they do offer cheap thrills with the practicality of four good seats. It may not be the most glamorous used car you can buy but turn the clock back a few years and this was the company car of choice for virtually every executive in the country.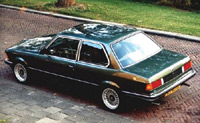 BMW 323i 
£600-£1,000
Nicknamed the 'widow maker' in Germany because it was soooooo fast, nowadays it wouldn't keep up with a 3-Series diesel but it still sounds great and is well screwed together. The boxy design is now a bit of a design classic and that classic straight six engine still sounds lovely.
Volvo 480ES Turbo
£300-£1000
Pop up headlamps, practical 2+2 seating and a 1.7 litre turbo charged engine all for the price of a service on a new Volvo. The 480ES may not be terribly quick but it's still a significant car in Volvo's history as it signalled their move from rear wheel to front wheel drive cars. Check the electrics carefully; especially on pre 1990 models and you could be looking at a future classic.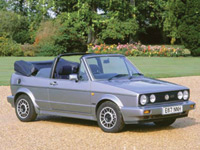 Volkswagen Golf GTi convertible
£500 – £1200
Buy a white GTi convertible slip on your Espadrilles, pop on a bolero jacket and you're instantly on the set of Miami Vice, how cool is that? Well maybe not that cool but at this kind of price you can't complain, it is after all a decent four-seater convertible with German build quality. I wanted one of these so much when I was growing up in Cornwall in the 1980's and I still have a soft spot for them now.
Lancia Monte Carlo
£4000-£7000
A mid engine, Italian sports car for the same price of a used Mazda MX-5, what are you waiting for?
I desperately wanted one of these and came within 30 minutes of owning a metallic powder blue example in 1987, only to be out bid by a cash buyer who managed to write it off just three days later.
The biggest problem with wanting one of these is finding one for sale, getting pretty rare now you may have to travel a fair few miles to find your perfect partner but the hunt will be worth it when you slip into that low slung driver's seat and blip that 2.0 litre engine.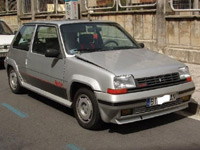 Renault 5 GT Turbo
£500-£1500
Small engines with big turbo chargers putting power down through front wheels are always a recipe for fun. I'm almost pleased I could never afford one when I was younger because I would almost certainly have ended up crashing it! But a few years on and without the impetuous of youth I think I could handle the 120 gee gees that the 1.4 litre engine produces. The newer 'Hot' Clio models may have more power but they also weigh more than these GT Turbos so it's still a close run thing on the all important 0-60 sprint. The GT Turbo is a car that reminds you of those days when building hot hatches was so much simpler.
© 2006 Jason Dawe