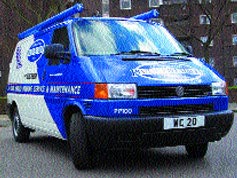 The Pimlico Plumbers credit a part of their ongoing success to their vast collection of personalised number plates. With a growing collection of over thirty, it is hard to miss plates such as BOG 1, DRA 1N, B1 DET, LAV 1 and W4 TER.
This attention to detail together with the outstanding service they offer has culminated in a series of prestigious awards recognising their status as one of the best in the industry. Three times voted London's Top Plumbers, finalists in the H&V National Domestic Installer of The Year award and H&V Marketing Initiative of The Year Winners, to name just a few.
The company's recent expansion into new 28,000 sq. ft. premises together with its livery of Volkswagen vans almost doubling to 90 is proof that their philosophy of the 'customer always coming first' is the key to their success.
Charlie Mullins, Managing Director said, "For 25 years now, we have been fulfilling that pledge by employing the highest calibre of staff in every position. In return for the high standard of service we offer, we find that our customers not only use us again and again themselves, but recommend us to their friends and family."
Pimlico Plumbers has carved a niche for itself by concentrating its efforts in an area of just 3½ square miles of Central London, but one that contains some of the most expensive properties and historic buildings in the capital. This means that presenting the right image to customers, who expect to receive the very best service and the highest of standards, is essential.
Distinctive number plates provide the finishing touch. Charlie said, "I am delighted with the way Registration Transfers handle the sale and transfer of our registrations, always with superb efficiency, from the initial search to the completion of all relevant documentation. These plates have added a touch of recognition and fun to our vans and our customers are always commenting on them. We have gained so much fantastic publicity because of the plates. There is no doubt that people not only spot us out and about, but they never forget us either."
© Regtransfers.co.uk – The World of Personal Number Plates Volume 1 Issue 1