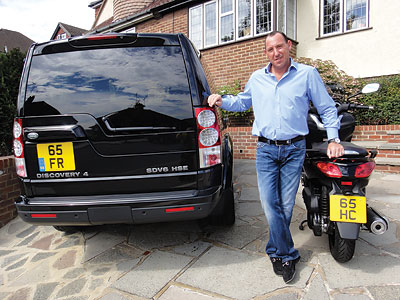 Fraser Russell is the proud owner of two registration marks purchased from Regtransfers. Fraser's wife started the ball rolling when she bought him 65 FR.
"I was not born in 1965, however the 65 does have relevance. I initially had it on a Jaguar but then I had it transferred onto my Landrover Discovery 4 last September when I bought it. Lovely car, and the plate really does it justice."
Becoming the proud owner of 65 FRgave Fraser the infamous number plates bug: the urge to buy more!
"I decided to find another plate for the bike that I predominantly use for my business. I own a concierge and lifestyle management company called Head Concierge Ltd.
"Will Robinson, an excellent member of your team, helped me to negotiate with the previous owner of 65 HC. HC being the initials of the company and 65 showing the date and month that I received my first payment from a client when I started the business back in 2003.
"Purchasing this plate was a great experience. I was well assisted and felt protected the whole way."
Initially the price of the plate was a little more than Fraser wanted to spend, but with a little negotiating by Will on behalf of both parties, and a little flexibility all round, a deal was struck and everyone was happy.
"I paid the initial deposit and the plate for my motorbike arrived in the post the very next day. What amazing service! The whole way through the process I was able to track the progress of my purchase online. I was able to see that you had received the paperwork from me, the paperwork from the seller, right through to the receipt of the documents from the DVLA. Altogether a wonderful professional service.
"I am still keeping the Regtransfers team busy through your cool RegAlert service, as I am looking for another plate for my wife's car. I have looked at other firms out there, but none of them come across to me as professional and helpful as you guys at Regtransfers. Thank you."
And thank you, Fraser!