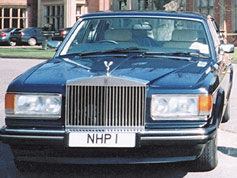 Norman Parrish from Warwickshire, considered cherished number plates to be naff, until a friend of his told him he'd seen a number plate with his initials on –NHP 1!
NHP 1 (for Norman Harvey Parrish) is one of the highly sought after 'Number one' style number plates. Norman said, "I've noticed that everyone's got one these days, and when my friend saw this number plate I told him I was not going to be tempted.
I have always said I would never get a cherished number plate because I think they are so naff!"
Soon after, Norman saw a Rolls Royce Silver Spirit II for sale in his favourite colour – dark blue. "I thought, no, I'm not going to buy it, after all, I already have a Daimler V8. But I kept thinking about the Rolls Royce – I'd always wanted one! I ended up buying the Rolls Royce – then I started to weaken over the number plate! I rang up Regtransfers.co.uk the same day I bought the car, just to see how much NHP 1 cost. It was a lot of money! I thought, this is silly! and decided to sleep on it. I bought NHP 1 the next day."
When asked if he still thinks cherished number plates are naff, Norman replied, "Not so much now! People seem very impressed by the plate, they look to see who I am."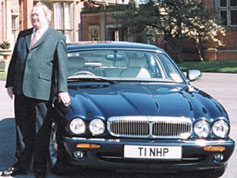 Jim Stewart, who after 11 years with Regtransfers.co.uk, is their longest serving salesman, said: "Mr. Parrish liked the plate so much he came back and bought T1 NHP for his 'T' registration Daimler. When I spoke to him he had definitely resigned himself to the fact that he was about to become the proud owner of a second cherished number plate! It's great when someone is converted like that. In my experience, as soon as people realise the wide range that is available to them, from their initials, a hobby or a nickname, to the more expensive 'number one's', they become dead set on finding the perfect plate for them. My job is to help them find the best possible number plate whilst staying within their price range."
What a shame that Mr. Parrish just missed out on buying the number plate N1 AFF, which has been sold by Regtransfers.co.uk to a man in Essex!
27 September 2001