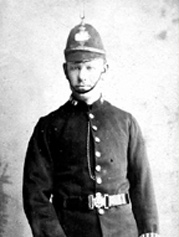 A recent newspaper article highlighted the extraordinary case of a 57-year-old West Yorkshire grandmother who, after a 20-minute inquisition, was given a £30 fixed penalty notice and ordered to provide a thumbprint. Her crime? An incorrectly coloured screw securing her number plate, making an '11' look like an 'H'. (Offence Code 309: 'Registration not conforming')
Whether or not this was a deliberate if somewhat crude attempt at 'personalisation', and putting aside the unnecessary and meaningless fingerprint 'identification' – as the woman had given no previous example with which to compare – we are left with a staggering instance of over-zealousness that further damages the already over-stretched relationship between the motorist and the authorities.
A spokesman was quoted as saying that Automated Number Plate Recognition was "one of the ways we can track criminals". This may have been the intention but the new recommended font for acrylic plates (Charles Wright) is extremely difficult to read with the naked eye. The condensed nature of many of the characters makes it almost impossible to differentiate between M's and N's or W's and V's. Witnesses of a crime involving a car with a 'difficult to read' registration could end up hampering police enquiries.
lessons
What lessons can be learned from this? Clearly your number plate must be correctly spaced and here at Regtransfers.co.uk we take great care to abide by the rules in our listings and illustrations. Ordering a set of plates from us will ensure that your registration is displayed in strict accordance with the regulations. Fixing screws must be unobtrusive and the kits available provide a comprehensive set of screws for this purpose i.e. white for front plates, yellow for rear and black, to be used only if existing holes force the screw to actually penetrate one of the characters.
The best examples of cherished plates are those coveted either for their classic simplicity ( V 1 , J 9 etc.) or the fact that they display what they say, whether it's a name ( CEC 1L ), a word ( GRA 5S ) or a cheeky phrase (WH05 BAD ).
Any registration that has to be 'adjusted' in order to 'make it work' is deemed illegal in the eyes of the law and consequently less valuable.
By paying attention to these simple measures, you can prevent situations such as this arising and spoiling the enjoyment of your personalised number plate from Regtransfers.co.uk.
Mind how you go.
Byron Marks
© Regtransfers.co.uk – The World of Personal Number Plates Volume 3 Issue 1