For the same price as an 'ordinary' new car you could be driving the world's automotive aristocracy thanks to the ravages of depreciation. With most cars losing around half their value in the first three years of life there has never been a better time to pick up a tasty motor.
So what are you waiting for? Check out my list of 'heavy metal heroes', the best luxury cars on a budget, get yourself a private plate and you'll soon have the neighbours thinking you've won the lottery. You'll never want to buy a new car again!
Up to £25,000
A top spec Vauxhall Signum diesel will set you back around £25,000 but for the same money you could be behind the wheel of one of Germany's best, a used Mercedes Benz S-Class.
All S-Class models look pretty much the same to the untrained eye so to the innocent onlooker you could be driving a £70,000 5.0 litre V8 or a £45,000 straight six. Either way it's the bonnet on the badge that cuts the mustard, the three pointed star is the universal symbol for success and you'll be welcomed at all the best locations.

Go for one with the optional satellite navigation, add some decent wheels and you'll not only look a million dollars you'll feel it as well. No worries on spec the more recent models all come with electric seats, climate control and leather upholstery so you will never feel hard done by.
The diesel S320 is my pick of the bunch with 204bhp on tap it has a useful turn of speed whilst you'll still top 30mpg in mixed motoring.
The one to buy – Mercedes Benz S320CDi 2002 '52' with 40,000 miles.
Cost new £47,000
Value today £23,000 – £25,000
Up to £20,000
Fords used to be cheap but a new Mondeo 2.2TDCi can tip the scales at nearly twenty grand and in three years time you'll be lucky to get £8,000. So why not spend that money a little more creatively with a BMW 7-Series? Pretty it ain't but there's no denying that a second hand BMW 7-Series is a big impact car. Pull up in the Mondeo and you look like a middle manager, rock up in the Beemer and you look like the chairman.
I'm not a big fan of the horrendously fiddly to use i-Drive system that BMW fit to the 7-Series but in every other respect its an impressive piece of kit and all the models have a decent turn of speed.

If you fancy the big Beemer then you are best off larging it, get one with big alloys and window tints for the full effect. The 6 cylinder models may be smooth but nothing beats the grunt of the 4.5 litre V8. With 333bhp on tap the 745i will give sports car owners a few shocks and will pull like a train up to its artificially limited 155mph top speed, just be prepared for frequent petrol station visits.
The one to buy – BMW 745i 2002 '02' with 70,000 miles.
Cost new £56,300
Value today £18,000 – £20,000
Up to £15,000
A brand new Skoda Octavia will set you back £15,000 but I'm not interested in that when you can have a 360bhp Audi S8 for the same money. The S8 is the high performance version of the all ready quick A8 4.2 quattro. Sat on meaty 18'' rims the S8 offers fantastic build quality, a space age all aluminium body shell and the benefits of all wheel drive technology.
Rumour has it that Audi made a loss on every A8 they ever built as the cost of production far outstripped the prices they could charge for them. Either way their obsession with building the ultimate luxury saloon car is good news for used car buyers as second hand examples often turn up looking as good as new.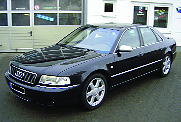 Favourite colours are black or silver, both of which suit the car, but be fussy about the cars service history and make sure the car has not been involved in an accident – the aluminium body work is difficult and expensive to repair and should only be carried out by a specialist dealer, something that can be expensive. Early 3.7 V8's may look like good value but the lack of Quattro four wheel drive removes one of the cars best features.
The one to buy – Audi A8 S8 quattro 2001 '51' with 60,000 miles.
Cost new £54,110
Value today £13,000 – £15,000
Up to £10,000
Ten grand on a new car doesn't get you very much, a Corsa diesel to be precise, and while I'm not saying that second hand luxury cars are for everyone when they get down to this price they have to be worth a closer look.
The Lexus LS was Japan's first real foray into the world of luxury saloon cars and overnight won many loyal customers. What the Lexus lacked was a distinctive face but that's unlikely to worry many owners as they waft down the motorway in a virtually silent cabin.

Being Japanese the Lexus has reliability that shames its German competitors and the rather neutral styling has meant that through its evolution the early cars haven't aged too badly. Get one with the fantastic Lexus satellite navigation system and you will swear you are sat in a brand new car; the system is still yet to be bettered by modern competitors. The 4.0 litre V8 is no slouch either with 260 willing horse power under the bonnet but the overly light power steering is unlikely to inspire you to push on at pace.
The one to buy – Lexus LS 1999 'T' with 70,000 miles.
Cost new £49,299
Value today £9,000 – £10,000
Up to £5,000
You'll struggle to get any new car for five grand, the KIA Picanto super mini is about the closest at £5,300, but heavy metal heroes still abound at this price. Pick of the crop is the Jaguar XJ saloon. Introduced in 1997 the XJ8 model was a huge leap forward from the visually similar X300 model with new V8 engines and up-rated interiors.
Classic Jag styling gives these cars a low, sleek, elegant look that is the epitome of good taste. But don't be fooled into thinking that these cars are musty, dusty old man's cars, the 3.2 V8 produces 240bhp and the 4.0 litre 290bhp. There's even a supercharged version with 370bhp to play with, that's more power than a new Porsche 911!
Since the introduction of the new XJ model in March 2003 values on these previous generation cars have been gently drifting down to their current level and with virtually no more money to lose your depreciation is going to be negligible. On the down side you have to put fuel in, about a gallon every 20 miles, and you'll have to replace tyres and brakes fairly frequently.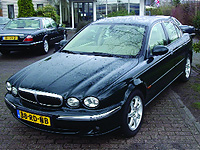 But take it from me, there's no better feeling in the world than slipping behind the wheel of a V8 Jaguar, prodding the throttle and rapidly disappearing, towards the horizon, safe in the knowledge that the car cost you less than the cheapest new car in the UK.
The one to buy – Jaguar XJ8 4.0 Sovereign LWB 1998 'R' with 150,000 miles.
Cost new £46,000
Value today £4,000 – £5,000
© 2006 Jason Dawe