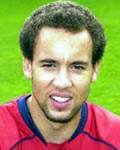 Luton (and Republic of Ireland under 21 International) footballer striker,Liam George, is the latest to join the growing number of soccer stars buying up personalised number plates from RegTransfers.co.uk
"I wanted to have my name on a plate, and first looked on the website www.regtransfers.co.uk for L1 AMG, (Liam G), but found L14 MBG instead, which is brilliant because it includes all my initials, plus it only cost £395." Liam (Brendon) George is pleased that he is joining the country's biggest football personalities in this growing number plate trend. "I think I will have to start this craze with the rest of the Luton team now!"
Marketing Manager, Len Stout said, "It is also the football fans that are buying number plates to suit their team, such as Paul Sisson from Derby who purchased
D3 RBY and Suzanne and Darren Spalding who purchased EN51 GER and
GB51 GER from us following the historic England win against Germany recently.
The interest is certainly growing."
As a child, Liam's football hero was Chris Waddle who played for Tottenham Hotspur, "I always aspired to be as good as him when I was growing up".
Waddle also purchased the plate WAD 8 from Regtransfers.
Liam is also lucky enough to have 'footballing' names, like the legendary Ireland players before him: Liam Brady and George Best. "I was actually named after Liam Brady, so my ambition is to move up to the senior Republic of Ireland team and live up to my namesake."
So it seems that Liam was destined for football and perhaps also destined to have a private number plate! Liam has put the new mark on his purple Peugeot 306 convertible and says he is looking forward to the teams' reaction when he turns up for training with his new plate, "I'm sure they'll all want one!"
Having just sold FOW 13R (Fowler) at Regtransfers.co.uk, could another footballing star have already snapped up his name on a plate?
20 September 2001