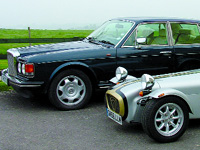 Once in, I was confronted with a cacophony of simplicity. No air con, no stereo, no electric windows, no cruise control, no sat nav – not even power steering. This was a chassis, an engine and a seat.
Starting the car took less time than writing this sentence, and then we were off. Despite just 1.6 litres of engine and 125bhp of power, the Caterham was quick:properly scarily quick. My wife screamed, the baby rabbits scattered and even the cows looked up from their munching to see what all the fuss was about.
Within just a few hundred yards, the Caterham managed to do what cars costing four times as much money had failed to do, it put a smile on my face.
At last, I was in a car that felt like a car. I admit it wasn't the most comfortable car in the world and it was incredibly noisy, but it did constantly remind me that I was actually driving.
Thirty minutes later, I was done. My wife and I returned home, parked the car, poured ourselves a drink and had some dinner. It was as if the Caterham had distilled my daily motoring fix into just a few minutes of frenetic activity and now I could relax.
But now I was addicted. Bitten by the bug of simplifying my life, I decided to do the same with my mobile phone.
I decided to get rid of my Sony, complete with camera, MP3 player, internet access and radio and replaced it with a Vertu. You probably won't know the name, I discovered it by accident, but it is a deliciously simple idea.
It is designed for people who want to buy a phone. It has no camera, no MP3 player, no QWERTY keyboard and no funny games. It weighs four times more than any phone I have ever bought and costs around twenty times more, and is made from material that means it could have a fight with a pit bull terrier and still come out looking perfect. In short, it is the most beautifully made, elegantly designed and simple to use phone I have ever owned.
Think of it as the Dunhill lighter of the phone world and you will start to get the idea.
Better still, it understands that its owners do not like a complicated life so it comes with a concierge button. Press it and you are put through to a multi-lingual help desk that will simplify your travel plans, hotel bookings or daughter's birthday party. This is a phone that, like the Caterham, liberates your time by being totally 'faff free'.
So, in an unapologetic plug for both products (and in an attempt to encourage more people to release themselves from unnecessary technology), I am going to include their websites for you to visit. The car costs £15,995 and you can find out more at www.caterham.co.uk. The phone starts at about £3,000 and can be found at www.vertu.com (expensive I know, but you will never need to buy another phone again).
So, all that remains is for me to use the concierge button on the Vertu phone and get them to call Volkswagen and get my CD collection out of that Phaeton. Ah, I've a feeling it might be simpler than I thought.
Jason Dawe
© 2007 Jason Dawe