The British Forces Foundation – a charity that boosts the morale of the Armed Forces, primarily through top quality entertainment with big name stars – launched its Lap of Honour project in June 2008. Fronted by BFF Trustee Katherine Jenkins, the project marks the charity's 10th anniversary year.
The registration number GB08 BFF, mounted on a patriotically painted Mini, was chosen to draw attention to the fact that The BFF supports the serving men and women of our Armed Forces from all over Great Britain.
The new Mini has been engaged in a year-long adventure around the country getting 50 British icons to autograph one car, and 100 companies to lend their support. The 50 icons represent the British elite in all spheres and the list includes Sir Michael Caine, Sir Jackie Stewart, Rod Stewart, Lewis Hamilton, Kate Moss, Joe Calzaghe, Sir Elton John, David Beckham, Baroness Thatcher, Eric Clapton, Joanna Lumley and Gordon Brown outside Number 10, Downing Street. Top Gearpresenters Jeremy Clarkson, Richard Hammond and James May also signed up during filming at the programme's test track in Surrey.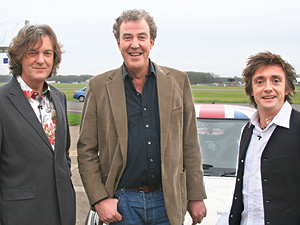 The last few months alone have seen Gordon Brown sign outside Number 10, Baroness Thatcher in front of The Royal Hospital and also backstage at The BRIT Awards 2009. Recent activity has attracted strong media attention on a number of different occasions and this includes prominent features in The Sun, The Daily Mail,The Daily Express, The Daily Telegraph and The Times, to name a few.
BFF Director, Mark Cann, said:
"The Lap of Honour is more than just a fundraising event for the charity or a focal point to mark ten years serving the Armed Forces. It is a celebration of the British link between companies, eminent icons and serving personnel. The very act of demonstrating support will send a clear message of solidarity to those on the frontline, which will in itself be a significant boost to their morale."
The GB08 BFF car will be on display in various locations before it is eventually auctioned off in July. Recent venues have included Mini Park Lane, The Royal Automobile Club's historic atrium and The National Motor Museum.
www.lapofhonour.org.uk