Gibby Plates
Huw Gibby from Portishead was a chartered surveyor working for the government but took early retirement at 49 and currently works in the control room of Avon and Somerset Police taking 999 calls.
His unusual surname is found mainly in Pembrokeshire and Utah, USA, where two Welsh Morman brothers emigrated in 1848.
Huw looked around for a suitable number plate and once tried, unsuccessfully, to bid by telephone at an auction for G1 BBY.
When the series, G2 BBY to G20 BBY, was released, he decided to go for both G13 BBY and G10 BBY, which is currently on his wife, Lin's, Vauxhall Tigra. "But she doesn't much like the plate," says Huw, "as it looks like GLOBBY!"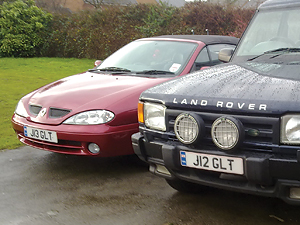 Thanks a Bunch
Gerald Tracey had already purchased the numberJ13 GLT through Regtransfers,
the 13th of June being his birthday and the GLT representing both his and his daughter's initials.
He then decided that it would be novel to have another with just one digit difference, J12 GLT.
"It really does personalise them," insists Gerald.
"Once again I was very happy with Regtransfers. It's always a pleasure to do business with such a friendly bunch of people."