Forbes Robertson's story is certainly one of the more unusual ones to have reached the Regtransfers editorial office. Few of our correspondents have managed to combine themes as diverse as personal number plates, disco, lap dancing and Scotch Whisky.
Forbes, born in Irvine, Ayrshire, Scotland, left school at 14 with no qualifications, something he says he now regrets. As a youngster he developed an early interest in cars and car registrations. His first job was as an assistant in a clothing store, but he soon realised that he could make more money cleaning windows than he could by working for someone else. At 17 he was already thinking like an entrepreneur.
Mornings would be taken up by Forbes's window cleaning work, and in the afternoons he would pursue his interest in cars and registrations, often visiting the various scrap yards of Ayrshire and asking the owners if he could look through old motor car log books.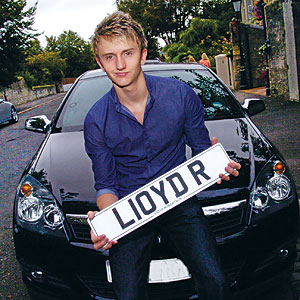 "They always looked at me as if I was mad," says Forbes. "But they humoured me anyway. If I found any of interest, I would offer the scrapyard owner a bottle of Johnny Walker in exchange for the log book, and this seemed to do the trick."
The first number Forbes acquired by his unorthodox system was on the back of an old Reilly Elf. The registration WSD 4 was an Ayrshire number and was indeed purchased for a bottle of whisky! The next number was EOS 2, closely followed by MAG 18 and MAG 19 – all paid for in the same liquid currency. Forbes subsequently sold these on to someone in Glasgow for £100.
"I now know that legally I should also have had the cars," admits Forbes. "but I knew no better then, and then no-one seemed to check."
The £100 profit from registrations dealing went into homemade disco equipment, and Forbes soon started a disco company which he called 'It's A Secret?'. This he regards as the beginning of what he calls his business empire.
"The happiest days of my life, being young, free and single. Minimum employees, none of the bureaucracy of current employment and health and safety legislation."
Business boomed, and Forbes renovated an old farmhouse into a bachelor pad, with swimming pool, jacuzzi and sauna. He had also acquired a selection of cars: a Rolls-Royce, registration AXS 1; an E-type Jaguar, registration JAG 143 and a 1938 MGTA, registration FOE 100.
"I then hit on the idea of converting my large house into a nursing home. What attracted me to that line of business initially was the VAT and rates exemption.
"I have expanded the home over the years, and there are now 38 residents, accommodated in en suite rooms, with adjoining further residential accommodation."
Throughout his business growth and diversification, Forbes maintained his interest in private registration numbers, and he continued to buy and sell number plates as they came along.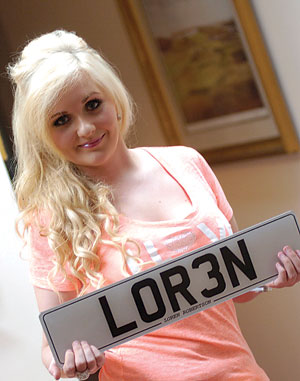 "My first FR number was 1917 FR and I then sold this on and purchased 5 FR, then 3 FR, then 2 FR. Finally, I managed to purchase 1 FR at a Christie's auction. I knew at the time that, although bidding was going up £1,000 at a time, if I didn't purchase it then I never would have got it.
"When I was 39 years old, my ultimate number became available to me, which was FR 1. This was the first number ever registered in Blackpool in 1904. It belonged to the Mayor of Blackpool council. Why they ever let the registration go is beyond me, but it seemed like destiny that it should come into my hands."
The diversification continued, and Forbes acquired theme bars, a hairdressing salon, a rental property portfolio and a casino.
His current project is an attempt to open Ayrshire's first lap-dancing bar – not easy to do, but the prospects look good so far.
As if all the wheeling and dealing didn't occupy enough of Forbes's time, he managed to squeeze in an appearance in the Channel 4 show Come Dine with Me. The episode was a great success, and Forbes's private registrations were also featured on the programme!
As of September 2005, Forbes's Millionayr Casino achieved a Guinness world record and was featured in the 2007 edition of the famous book.
"It is ironic that I began by giving away bottles of whisky in exchange for log books, and I end up with the Guinness World Record for the most varieties of whisky available at a licensed premises!
"I really owe all of my success as an entrepreneur to my humble beginnings in the registrations game and my love for numbers," says Forbes. "My son and daughter will reach driving age in the next few years. Quite a while ago I obtained the registration L10 YDR for my son, Lloyd.
My daughter is named Lauren, and I managed to find LOR 3N for her. They don't know that I have these numbers – it's been a well kept secret for many years, but no doubt once your article is published the secret will be out.
"I think Regtransfers is exceptional to deal with, and I would recommend you without hesitation."
Story: Rick Cadger
Photos: Derek McCabe