The World of Personal Number Plates is the industry's only full-colour glossy magazine. Since 2003, Regtransfers has published hundreds of fascinating photographs and articles about people who are proud of their personal registrations and delighted to have them featured in print and on this website.
Among these is a star-studded array of celebrities who have been only too pleased to tell us their own stories.
Interestingly, it is the corridors of big-business, 'the new rock and roll', which are providing some of the big name role-models. We have been lucky enough to scoop informative and highly entertaining articles on no fewer than three of the TV 'Dragons', Duncan Bannatyne,Theo Paphitis, and James Caan. Elsewhere the likes of entrepreneurs David Gold andSir John Madejski have been kind enough to provide in-depth interviews.
From the world of entertainment we have been honoured to talk to violin virtuosa, Vanessa-Mae, actresses Fiona Fullerton and Linda Lusardi, Holby City's Noah Huntley, sixties chart-topper, Engelbert Humperdinck, Groundforce DIY expert, Tommy Walsh, DJ David Hamilton,Saturday Kitchen's top chef, James Martin, top hair stylist, Nicky Clarke, ventriloquist,Keith Harris (and Orville!), 'Millionaire' Chris Tarrant, and of course, the 'magic' Paul Daniels, who recently appeared on BBC TV's Strictly Come Dancing.
We have also featured some intriguing insights into the careers of some of the country's top sporting personalities including champion boxer, Amir Khan, motor-racing icon,Stirling Moss, Olympic champion athlete, Tessa Sanderson, footballer turned Hollywood actor, Vinnie Jones, cricketing legend Sir Ian Botham OBE, champion jockey, Frankie DettoriMBE and, of course, our current cover star, Phil Tufnell, who you can read all about in this issue.
Who's next? Well, in our next issue, none other than the Loose Woman and chanteuse,Coleen Nolan, will tell us why she feels 'in the mood for a number plate'.
And that, of course, is the common thread. Top people with top plates, celebrating their success with glowing endorsements of the personal number plate as a symbol of success and, of course, the market-leader, Regtransfers.
A personal number plate will not make you a celebrity, but you can celebrate your own success – and you'll certainly be in good company.
Get your FREE copy of our latest magazine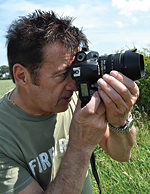 In the frame
If a picture is worth a thousand words, then surely the photographs that have graced our celebrity stories must be worth a Concise Oxford English Dictionary or two. Most were taken by our in-house photographer, Stan Thompson (or David Bailey, as he is known in the editorial office). Some highlights include his superb Linda Lusardi portraits, the infamous Chris Tarrant cover and Frankie Dettori astride a rocking zebra!
It has been said that, "these days, anyone with a digital camera can take a decent picture." Wrong! You need to know what you are doing, and Stan is The Man.
Photo: David Wright