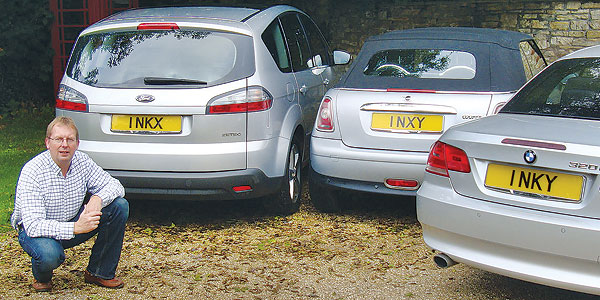 On leaving art college, Mike Burns set up his own design and print business. He has always been interested in personalised number plates and in the mid 90's applied to the DVLA to release the registration DES 16N. As a result, this went to auction but Mike was unsuccessful as the plate sold for more than he could afford.
Not the person to give up easily, he stayed on the look-out for a cherished number plate that was print-related and, a couple of years later, he acquired 1 NKY. When 1 NKX became available, it seemed too good to be true as both plates complemented one another on his and his wife's cars.
When Regtransfers secured 1 NXY, Mike was their first port of call. Mike, who has three daughters, thought it was the correct thing to do as they could eventually have a personalised registration each when they reach 17 and have their own cars.
Mike is involved with Bloodbikes, an Emergency Hospital Courier Service, which is a charity relying solely on volunteers and fundraising. Bloodbikes are extending their service to help premature and sick babies by collecting mothers milk from donors and delivering it to Maternity Hospitals. As a result, Mike Burns and Paul Lowe got on their bikes in May 2011 to cycle over 1200 miles from one end of the country to the other linking up all 24 NHS Blood Centres nationwide.
They were joined by friends, colleagues, Hotel du Vin, Malmaison and AXA staff along the way, all with the same objective, to raise enough to buy Bloodbikes a brand new VW 4X4 Emergency Vehicle and a BMW RT 1200 motorbike.
www.bloodbikes.co.uk