I called Justine again to thank her for such a prompt and helpful response. I told her I could not make up my mind and she suggested a few that looked like somebody's initials. As she pointed out, when your driving along nobody would know if they were your initials or not. As I could not afford Number Plate with GB on it, then this could be the next best thing. A plate that looked good and looked like initials would be a good second choice. As people kept telling me p rivate n umber p lates keep going up in value, so if I got fed up with it in a few years I could always re-sell it. (In fact I think it has doubled in value in just over 3 years!) I decided to go for 5 FBJ. It looked good but was a bit more than I really wanted to pay and so I asked if the seller would be prepared to accept an offer. Justine said she would have to contact them and find out. If I could make a reasonable offer, close to the asking price, then she would be happy to put it forward. This she did and after a few calls back and forth, a deal was struck.
I must point out that at no time was I put under any pressure to buy or to make my mind up quickly or indeed make any offer or pay any deposit. The whole process was done at my pace and I think this is the main reasons I would recommend Regtransfers to anyone looking to buy a private number plate – no high pressure salesmen . . . or women ! I had plenty of time to think about it, chew things over and speak to other people first. I did actually Telephone other dealers to see what they had on offer and got a feeling that some of them just wanted to sell me something, a nything, j ust to make a sale.
The next problem I had was that as the car had just been sitting around in the Garage it was not Taxed, insured or MOT'd (it was now three years old and due for it's first test. ) therefore I could not simply transfer the new number across onto it. It was suggested that I purchased the 5 FBJ number as originally agreed and that it was supplied to me on a Retention Certificate. This is a Document issued by the DVLA stating that the person named on the Certificate is entitled to assign the number on it to any vehicle registered in their name. This would allow me time to get the Vauxhall Astra back on the road under it's original number plate. Then either I could take all the paperwork to my local vehicle licensing centre in Wimbledon or send it all back to Regtransfers as they had kindly agreed to sort it all out for me once I was ready to proceed.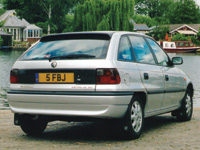 Another very important point to bear in mind is that if you buy private car registrations on Retention Certificate, either through a dealer or other third party, you are only buying the rights to assign that number to your vehicle. The Retention Certificate will be made out in the seller, or the owner of the last vehicle it was on – not Regtransfers. You are, what is called, the ' nominee'. That means that the seller will allow you to use the number instead and he will give up his rights to it once you assign it to a vehicle, but you must do it before the certificate expires.
As the nominee you can not renew the Certificate, it would be down to the seller to renew it for another year. Although it is possible to do it, it could cause all sorts of problems if anything goes wrong. Therefore you should aim to transfer the number onto a vehicle that you own as soon as possible in order: to avoid lasing the number if something goes wrong or the certificate is not renewed in time. Being very interested in how all this works I decided to take all the paperwork and a photocopy of the tax disc to my local DVLA office in Wimbledon.
I was absolutely amazed how quickly and easily the transfer was done. I don't think I was in the office for more than five minutes – I didn' t even have to queue!. I went straight up to the counter, the lady took all of the paperwork, looked at it, bashed a few buttons on her computer and gave me a new tax disc showing 5 FBJ . Gave me a slip of paper so that I could get some new number plates made up. They also put a rubber stamp on my original MOT test Certificate and wrote the new registration number on it as well and gave that back to me. The lady then said that I would get my new log- book in the post in a few weeks. That was it. I could not believe it was so easy. I could now go home and fit the new number plates to my car.
© 2006 Regtransfers.co.uk
1 | 2