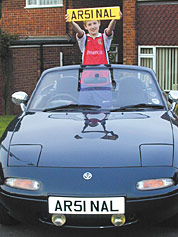 For leading cherished number plate dealer, Regtransfers.co.uk, having the best footballing marks available is just another part of its excellent service. Their website www.regtransfers.co.uk is definitely the first port of call.
Click on 'Football' to view the dedicated football page, and it will show a drop-down menu of all the football clubs around. Once you have selected the football club of your choice, click on the button 'click here to search'. The database pulls up every conceivable number plate to do with that club. For instance if Manchester United football club is selected, the results range fromA1 RED, G7 GGS, K3 ANE to Y9 RKE and even 1 UTD – a wide selection for fans and players alike!
One fan recently added his new D3 RBY plate to his Jaguar XKR Convertible.
He bought the number plate because it is his birthplace, but also because: "I'm proud of the city and I'm mad about Derby County FC."
Popularity for number plates with a football theme is definitely growing. Other Football number plates currently available are: AR51 NEL, AR51 NHL, AR51 NAL, LE51 AUX, Y10 RKE, WE51 HAM, S8 URS, B8 URY andS6O RED. Come on you fans!
Fanatical About Number Plates 27 July 2001