Mark Pocock had been an accountant for many years, but later started up a company, running various activities, such as property refurbishment, property management and holidays – all aimed at improving other peoples' lifestyles.
This was Mark's second business and he called it Finer Lifestyle eXperiences. He put the number 2 FLX on his car to suit the image of the company.
For his son, Charlie's, 18th birthday, Mark bought C18 POC… and this is why:
"Charlie wanted something that would last, and would always remind him of his special day and his parents," says Mark.
"I considered many options. Clothes can get lost, stolen, worn out or damaged. Jewellery could go out of fashion. A nice car wouldn't last forever and would cost too much. Some fancy gadget would be out of date very quickly. Tankards aren't popular any more – youngsters drink beer and cider from bottles! Ornaments, decorations or artwork? No-one knows what would go in Charlie's future home."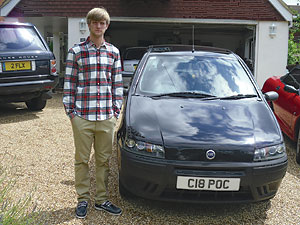 So, after all that thinking, Mark had a brilliant idea:
"I told him that it is most relevant on the day, but also it will last and last. It can't get broken, lost or stolen. It won't wear out or go out of fashion, it will always fit and is suitable for all occasions and any home.
"Furthermore, it will actually increase in value so, if he ever gets fed up with it, or fell on hard times, it could be sold to raise some cash!"
A personal number plate. The perfect gift to mark a special birthday.