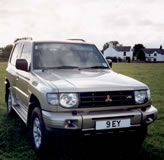 A very proud North Wales man has secured the number plate of a lifetime in the shape of 9 EY. Mr. Steve Pentith, who runs his own business, Pentith Self-catering Holidays, in Benllech, Anglesey, had been searching for an EY plate for quite some time.
"I found the number plate 9 EY on the RegTransfers.co.uk website. I was so pleased to have found an EY plate! About a month after I bought it, another number plate dealer rang me and offered me more money for it, but I would never sell it. I'd like to keep it in the family and pass it down when the time comes."
Steve says that any EY plates are highly sought after in Anglesey, "in fact I often see a blue BMW around town with the number plate EY 9. I've also seen EY100 and 5 EY and my son's neighbour has 3 EY on his Mercedes. I have even parked next to a Mitsubishi Shogun with the plate 8 EY. The reason for this interest is that the very first number plate registered in Anglesey was EY 1, in 1903. It was first acquired by a wealthy land owner. Apparently his chauffeur queued up all night to make sure he secured it.
I have done a bit of research into Anglesey plates and have found out that EY 9 was first issued by the council on 17 December 1903 to a Mr. Aiden Henry Williams Llewelin Morgan at the Plas Coed Mor (the Big House). The car it went on was a 9 N.H.P. Darracq 12bhp. Unfortunately a lot of EY car registrations have been lost or destroyed, which makes the ones around even more desirable."