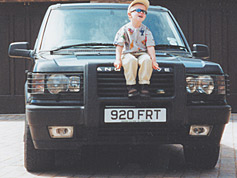 Private number plates have historically increased their value over the years, but now it seems that people are choosing to buy them instead of investing their hard earned cash in ISA's, TESSA's and the new Baby Bond ®.
Devoted parents Stuart and Teresa Taylor from Gloucester recently bought their son Otis an unusual 21st birthday present – a personalised number plate. But even more unusual is that they have bought it 18 years early – little Otis is only three!
"We thought it would be a good long-term investment and were sure he would be pleased with it when the time comes, although he does refer to it as his already."
The last four characters of the number plate, 920 FRT, spell Otis's full name: Otis Fenton Robert Taylor. Though the Taylor's admit: "we were originally looking for a plate for either of us, or one that referred to our newly opened trout lake, but when this one came up we thought it was perfect."
Regtransfers.co.uk have a special search engine built into the website, which allowed the Taylor's to look through all their options quickly and efficiently. By typing personal details such as name and birth date into the Regtransfers search, all the options matching their unique information combinations came up straight away.
Likewise, a couple from Hampshire have bought the number plate V8 MJP for
their four-month-old son, again purely as an investment for their child's future.
But some people buy and sell number plates almost as if they were stocks and shares! Ivan Scott from Burnley, Lancashire, buys number plates primarily for enjoyment but says, "they are also most definitely an investment". For instance, he purchased 11 YS for his daughter Yasmin's 11th birthday and 1 VY which was his nickname, for himself. He later sold 1 VY for a tidy profit. His latest purchase is 3 VN, which he says "makes his new BMW convertible look more prestigious."
Motoring commentator Quentin Willson has also noticed this growing trend, as he described in his article 'Crazy Prices' in The Mirror back in May while visiting a number plate auction: "What struck me as most interesting is the fact that ordinary people are buying these plates as investments." He went on to describe how an electrician who was sitting next to him, was buying up cheap plates on his day off to sell on to his friends for twice the price!
Even private companies are joining the rush to buy up desirable car registrations with the belief that they will be worth more in the future. A pest control company in Uckfield, Sussex, D. Sankey Pest Control Services, and the 'posh' Pimlico Plumbers in London, have gone one stage further – buying a whole set of number plates to suit their businesses. Sankey's vans are riddled with infestation: M1 CES, L1 CES, M1 TES, ANT 7T, A3 FLY andW4 SPS amongst others, commanding a current value of £55,000. David Sankey said "I would like it if eventually someone bought the whole lot from me."
Fanatical About Number Plates 15 August 2001