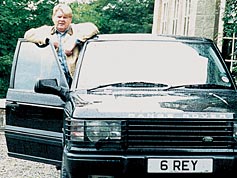 Top of the shopping list for many cherished number plate enthusiasts is still the surname plate – it identifies them wherever they go and it is the ultimate accessory for personalising a vehicle.
This was certainly the case for Peter Grey-Hughes, who purchased 6 REY (Grey) in preference to a plate which spells his first name, such as PET 33R or P3 TER. "Grey is my maternal family name and forms part of my own surname. I was not interested in a plate with 'Peter' on it, I only wanted my surname." Peter was looking for a number plate for his second car, a Range Rover, and thought that this plate matched the car perfectly. "I also have the number plate GH 7, which is on a V6 Mercedes. I definitely prefer 6 REY though, and it certainly draws admiring glances. I only need one car now, so I'm selling the Mercedes with the number plate on it. It would be a great plate for Geri Halliwell, Gloria Huniford or Glen Hoddle!"
Barry Tuck who deals with the email sales enquiries at the premier Cherished Number plate dealer, Regtransfers.co.uk said, "I find that people are often both very proud and very defensive of their surnames. I think it defines who we are,
and where we come from, whereas a christian name, especially one that is quite ordinary just blends in with the crowd. We all want to be a bit different from everyone else, and buying private number plates is one way people can express their individuality. Mr. Grey-Hughes had seen the plate in one of our adverts and contacted me about it. For him, it was the best possible number plate."
Likewise, Mark Dewey found an excellent number plate to match his surname,
D6 WEY. He saw it advertised in one of Regtransfers adverts and said to himself, "I'll have that one!" He had seen DEW 6Y a few years ago, which planted the seed of wanting a personalised number plate with his surname. Mark has his own building/renting business, Tatlif Properties which is based in Lower Broadheath, Worcester. "I received a first class service from a very amiable chap."
John Carr who dealt with the sale said, "Mr. Dewey has found an excellent plate for his unusual surname. He is now looking to add another 'surname' plate to his collection!"
Nick Whale, of Nick Whale Holdings Ltd from Warwickshire, a motor distributor for Toyota, Lexus and Lotus, has also found an excellent number plate to match his surname, W77 ALE. "I received a mail shot from Regtransfers.co.uk and was on the phone to them within the hour. It is good value and an efficient service!"
Three special search facilities have been built into the www.Regtransfers.co.uk website specifically for names: 'Is your name available?', 'Names & Initials' and 'Plates like Names'.
When your details are typed in, all the plates available that match, will appear. If the name you are looking for is not available, you can use the Regtransfers excellent 'Reg Alert' service. Request the plate you are looking for and the results will be emailed to you as they are found.
4 October 2001