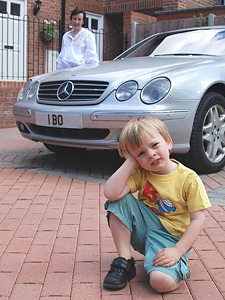 As a young man, I had always loved cars. My Grandfather in Belgium would treat me to rides on the Auto Scooter, the French for dodgem cars at that time. I was good at getting the timing just right so that I would catch the rear of the opponent's car at the correct angle to send them spinning around. This was forbidden in the UK and the French dodgems were so much more modern! What is more, the staff would throw flour onto the track to make it more slippery. What fun!
Even before becoming a young Medical Student, I would dream of owning a nice car. Looking back, something like a Morgan with the number plate 1 CH featured in my dreams.
When I passed my first major examination, my friend, Howard, and I went along to FH Douglas in South Ealing, the first London concession for Morgan Cars. Douglas must have been 90 years old if he was a day.
The conversation went a little like this:
"We shall be doctors one day and we each wish to put our names down to buy a Morgan Plus Eight. However, we cannot afford the silly deposits required in South Kensington ."
"Oh. So how much can you afford?," he said.
"Twenty five pounds please," we both replied. Douglas got out the order book and wrote'Morgan Plus-Eight with seat belts' (then, a new legal requirement), together with the specified colour; in my case, Bentley velvet green.
Twenty years and a divorce or two later, I was finally was able to cash in my chips and get my dream car.
While it was being built to my specifications, which included Connolly leather, a mohair soft-top and custom extra-backing to my seat, as well as an in-built stereo system, I would make frequent visits to enable the staff to fit the seats to my frame.
I shall never forget the John Harvey-Jones BBC programme during which he lambasted Morgan for their old-fashioned ways. When he suggested to one of the employees, who had been there for over thirty years, that he must have seen many changes, the considered reply, after a suitable pause, and in a delightful Gloucestershire accent, was: "No".
Tragically, the Plus-Eight was torched on the night of an England World Cup match some years ago. The number plate, 1 CH , however, lives on. She now resides on a Lexus LS 400.
Charles Hudd MS
Brentford, Middlesex
Charles, who is a specialist urological surgeon at The Princess Margaret Hospital, has many other classic registrations including 1 BO (pictured), W111 LLYand OS05 OFT.