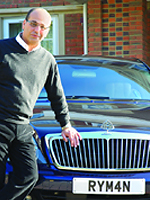 "Seven a.m. is my normal time to get up. Mrs P. gets up about half an hour earlier. I'll see the girls in the morning [twins, Annie and Hollie], then they go to school. From that point my day depends on when my first appointment is. Sometimes I go to the gym and have a workout for an hour. I rarely leave here before 9 o'clock because I don't like traffic.
Then Kato and I go off to the promised land. If we do more than one day a week in the office it will be quite unusual. We travel a lot. My car's my office. I spend more time in my car than anywhere else, so any money I spend on cars is like spending money on a home or an office or a property. I have to have all the bits and pieces I need in the car.
"I have my diary in there, which is organised by Caroline, my PA, and Kato. He has an electronic copy every day which he will print out and update on a regular basis from Caroline, so we know if things have changed. I've got technology in there so I can browse the web and do what I want to do. And obviously I've got all the other luxuries: TV, radio, DVD, cocktail cabinet, fridge."
We had heard that he likes to keep a bottle of champagne in the car as well.
"Absolutely, and silver goblets. Really, it's an incredibly comfortable environment. Because it's a long wheelbase car, with the front seat reasonably far forward without looking silly, I can stretch out quite comfortably and sleep in it. I've actually perfected the art of teleporting."
Right…
"No, really, we can be in the West End at midnight and I can get home in five minutes. It's very easy because it's such a lovely car. The minute I get in the back I take my shoes off, stretch out and sleep. Next thing I know, we're here. It's like… instant."
The car is not just a mobile office then?
"No, it's everything. In the car I can get any sleep I may not have been able to get during the night. It's such an important part of my life, and the Maybach is probably the best car in the world."
Fortunately, filming for Dragons' Den takes place in London, not too far to travel in the comfort of the Maybach. Theo has been with the programme since its second season.
"I was asked to do it. The BBC came round and asked me. It was at the time I stopped football [Theo is a former Chairman of Millwall FC], so I had more time on my hands, and it was an opportunity to do something different."
But Theo doesn't expect to be a permanent fixture in the Dragons' Den for the rest of the show's natural life.
"I think it will see us all out. It needs to be refreshed. We've already had new dragons, in fact there are only two originals left:
Peter and Duncan. I joined in series two, Deborah [Meaden] joined in series three with Charley Farley[Richard Farleigh!], and James [Caan] joined this last series. So it's always going to be refreshed, it has to be."
« previous page | continued »