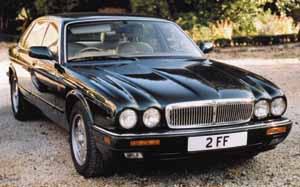 How does Fiona view the effect a personal number plate can have on one's anonymity?
"I have to say, living in the country makes a difference because I think that if I was in London with a plate like that I'd be a lot more vulnerable, and I would think twice about it: but down here, where life is so sort of calm and gentle and kind, it's never really been an issue for me. I think that if I was in an inner-city, urban environment I would watch out, simply because of the jealousy factor; you know, you'd get a key run down the car… so I think one has to be fairly careful about that, and garaging and things like that.
"I like having the plate but I think there are times. for example, when I'm doing the school-run in the morning, all the mums at school have got very, very smart cars but they haven't all got fancy plates, so the thing is that because of the car and the plate I can't afford to go and park badly or block anybody in because they'll all be saying: 'That Fiona Fullerton, she's terrible. She's so selfish!'.
"So, you know, I have to really toe the line and park properly. When you're on the school run and dropping your kids off, a lot of mums just pull up, jump out and off they go, but if I did that I'd be in deep trouble because everyone would know it was me. So, occasionally I go in the Volvo – well actually, more often than not – and then nobody knows it's me!"
What do family and friends think of Fiona's registration?
"My cousin's little boy is called Freddie Fullerton and he's got his eyes on my number plate already! Now that I know what it's worth though I don't think I'm going to give it to him too quickly! He's only a little boy at the moment – he's about nine but he's always said, 'Because we have the same initials, can I have that plate one day?'."
The revelation about the current value of her personal plate is a source of continuing amusement to her. She asks what her husband's registration would currently be worth, and once again the answer comes as a surprise.
"Less than mine! Oh, you see, I made the smarter investment! See, that's the story of my life – I do it every time! [Laughs] Excellent!"
We tell Fiona about another FF registration that Regtransfers is currently buying in for stock. The price of that one will be about one hundred thousand pounds.
"OH! No, I can't afford that!
I didn't actually pay all that much for mine. I'd rather spend that sort of money on buying another property."
Despite her absolute dismissal of the idea of paying a very high price for another registration for herself, would Fiona ever consider purchasing a registration purely as an investment?
"Well, not with my initials. As an investment. some other more common initials where the price rises accordingly, yes probably, but FF I don't think is too good a bet really."
Why does she think people buy personal registrations?
"If your neighbour has got one then you want one. So it's keeping up. But in my particular case, being high-profile anyway, one wouldn't have thought that I'd need to draw any more attention to myself, which is quite true [laughs]. I don't know, I suppose it's Neil's thinking that a nice plate certainly will look gorgeous on an XK8."
This is a busy time for Fiona. She has her new Jaguar to look forward to, and she is currently working on her third property book. This time the focus will be on letting and the new book's ETA is late spring 2004. For the moment, however, all attention is on Casa Libra, the online catalogue of unusual and hard-to-find accessories.
The website, www.casalibra.com, is live and ready for browsing and even the casual visitor will immediately see that it boasts a selection of stylish and unusual items that one would certainly have difficulty finding on the high street.
Some might be puzzled that a successful star of stage and screen would so readily give up the spotlight. nevertheless, it is hard to imagine anyone being busier, happier or more enthusiastic than Fiona Fullerton.