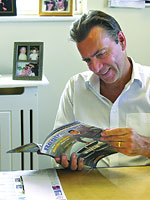 But Dragons' Den requires his physical presence and the PDA can't help there. The new series sees the arrival of James Caan, successful veteran of several service industries, who has been brought on board to replace the very popular Richard Farleigh.
Does Duncan get on well with the other Dragons? "Oh yeah. I used to meet Richard a lot because he's got a place in Monte Carlo. He used to bring the kids to my pool, and I've met James Caan for dinner because he's also got a place in Cannes. The others… Well, Peter has a place in Portugal and Theo's got a place in Spain, but I don't like Puerto Banus and don't go there, so I don't meet them abroad. Another problem is that they smoke, and I just find it hard to socialise with people who smoke."
Duncan would be the first to admit that the television exposure afforded by a show like Dragons' Den can do wonders for one's profile. "It helps me in business in a lot of ways. Last year I bought 26 health clubs from Hilton Hotels for £92 million. If I'd phoned the broker about three years ago, he would have ignored me. He wouldn't have known I had £92 million pounds. To him I would just have been someone called Ballantyne or something from Scotland. But now it's different.
I managed to get the bank to lend me £190 million pounds to buy it and to pay off debts. So, due to the profile the company has got loan it wouldn't have got three years ago."
What does Duncan have planed for the immediate future? "In January I'm going to Africa with Richard Branson. We formed an organisation called Entrepreneurs Unite [www.entrepreneursunite.com]. The idea behind that is to get ten or twenty entrepreneurs to make contributions every year. But instead of giving money with no homes or no food, what we do is invest in businesses locally. So if, for example, there was a woman in South Africa offering bed and breakfast for tourists, and she can only take three people in and she wants to extend the house then we could invest in that. We will never take any money out: it all goes back into the main company and it gets reinvested. So it's actually done more like a normal investment.
The first investment we agreed was actually to allow farmers to pasteurise their own milk. A trip of 50 miles to the nearest dairy and 50 miles back was quite an issue for the farmers, so we're doing that sort of thing. It's still in its early stages but the organisation is formed and we'll go back in January and see what's happened. "I'll always be involved in charity. What I don't want to do is just send cheques to Children in Need every year."
And what about his own business projects? "My plans are just to continue growing my businesses and enjoying them: to spend time with my six children and enjoying them. Doing more television work and enjoying that too. Oh, and living for a hundred years doing it. Life is just so fantastic."
Those are surely the words of a fairly contented man. Duncan Bannatyne seems to have a knack for getting the most out of life, and his work abroad shows that he is willing to share the benefits of his labours.
We didn't need the asbestos underwear after all.
Rick Cadger
Interview: Angela Banh
Photography: John Doherty
©2007 Regtransfers.co.uk