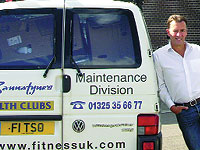 "I live on an estate that has security at the gates, so my children are able to go out in safety. At five years old they can go down the cul-de-sac to visit their friends and we're never afraid that anything's going to happen to them. In fact, they're out there all the time. If I had a big house surrounded by fences and things then the children wouldn't have their friends to play with. There are about 20 children living in the cul-de-sac and they're out there playing all the time. They have a great life. I live there because it's a children thing."
In addition to the Wynyard house, there is another house in Cannes, France. "It's a beautiful six bedroom villa which costs me a lot more to upkeep than the English house, and I have to have staff there. We spend the whole summer there. The kids have the swimming pool and, once again, it's very family orientated. My 8 year-old daughter has arthritis and being in the pool really helps her."
Bannatyne's attitude to expenditure seems very much coloured by his modest roots. There is no casual disregard for the cost of anything. No taking endless resources for granted.
"I spend where I think it's necessary.
I used to fly to the villa in France on a private jet but now easyJet flies three times a day, so I use them. It's convenient. I do look after the pennies, but I spend on convenience for my family."
Family and children are recurring themes during the interview, and clearly children are very important to Bannatyne. He was awarded an OBE in 2004 for his work raising money for charity, and he is a keen supporter of UNICEF, the United Nations Children's Fund, and Scottish International Relief. He has helped with the funding of orphanages in Columbia and Romania.
Bannatyne's own children span a range of ages: 23, 21, 15, 13, 8 and 5, with the two youngest, from his second marriage, living with him at home. The older children are making their ways in the world, but so far none have chosen a similar entrepreneurial path to their father's.
"My eldest daughter has just moved to Bristol to be with her boyfriend. She's done a media course, which she's finished this year, and she's just starting to look for employment now. My 21 year-old daughter is still at university in Leeds. She's not sure what she wants to do when she finishes but she's taken business as part of her studies, so she might get into it. I'm not rushing them.
I'm not telling them what to do. They can make their own decisions."
This relaxed attitude is understandable when one remembers that Duncan himself didn't start in business until he was 30. In fact, he seems content to conduct his current business life at a fairly relaxed pace. Far from being chained to a desk until late night, Bannatyne reckons that he generally only spends about 5 hours a week in the office.
"I do most of my work by Blackberry, which is constant. I'm not on it all the time but it's constantly with me, so I use that. When I used to go to the villa for six weeks, I'd have to come back at the weekends and go through the emails, but now I don't have to because I get them on the Blackberry. I can spend more time by the pool in the villa!"