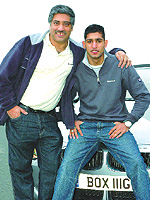 "I would like to get another car soon. I've never had a Mercedes, so I might just go for a Mercedes. Something not too fast, fuel's just too expensive."
With such an enthusiasm for cars, we expect Amir drives himself to the venues for his fights.
"Actually, not really. I get my dad to drive. I just chill in the back and fall asleep."
That small comment, as much as anything else he says during our time together, illustrates Amir Khan's confidence and composure. Not arrogance, or cockiness, but confidence. For a young man to be able to relax, even sleep, in a car on the way to have someone try to beat him unconscious is really quite extraordinary.
That confidence is, no doubt, buoyed by the spectacular support he receives from family, friends and the wider local community.
"Oh yeah. My whole family and more," Amir grins. "I have all of Bolton there, you know. I tell you, it's mad. I walk out of the changing rooms, I see my family and no one else, and I think, what's going on here? Has my family bought all the tickets? As well as close family and friends who we know are coming, there are often more who just make their own way there. I recognise loads of faces, even when I box in London. It's good."
Although Amir's family share his confidence, and believe in him firmly, they are not able to stay quite as calm as he does.
"It's like they feel more nervous watching it than I feel about doing it. It's the same for me when my brother [amateur boxer, Haroon Khan] fights, because he boxes as well. He has represented England and won the Four Nations championship. I feel more nervous when he's fighting than I feel when I fight myself. It's because you just can't do anything. It's just one of those things, but it makes me know how they feel when I fight. But for us, as soon as you step inside the ring, all your nerves are just gone."
At the time of the interview, Amir had recently beaten Rachid Drilzane of France by a unanimous points decision (99-91 in ten rounds) for the IBF inter-continental light welterweight title. For a boxer who is more used to stopping opponents in early rounds, how did he cope? Has his confidence emerged from that test as strong as it was before?
"It was the toughest fight so far, because it was a long one. I had to test my stamina, test my strength and see if I could still be strong at the end of the fight. A lot of people were thinking that I'm quick at the first couple of rounds, but that I don't have the stamina to go those last rounds. But I proved a lot of people wrong that day! Actually, I think I could have gone another two rounds if it had come to it. It's good, you know. It shows the training I'm doing is working.
1 | 2
More great celebrity boxer interviews from Regtransfers