Nik and Eva Speakman
Nik and Eva Speakman are amongst the UK's best-known life coaches and therapists. The couple are familiar faces to viewers of ITV's This Morning, where they have made frequent appearances as resident therapists, and have fronted TV shows of their own.
The Speakmans champion a style of therapy they call Schema Conditioning: an approach that has reportedly helped a lot of people to overcome phobias and psychological problems, often stemming from trauma experienced in their earlier lives. Their client base includes celebrities from the fields of entertainment, business and sport.
Although Nik and Eva don't have conventional qualifications or accreditation in psychiatry, psychology or any other mainstream mental health treatment discipline, they have no difficulty producing examples of happy clients who say that the Speakmans cured them of their stress, anxiety, phobias etc. They have attracted some criticism for saying that their proprietary method is more effective than the therapies available free from the NHS but rather than competing against mainstream treatments, the Speakmans' mission seems to be to get their therapy adopted as an option on the NHS.
Nik and Eva project an overwhelmingly positive vibe. Their own daily routine includes music and mantras selected to get them into an upbeat, determined frame of mind, ready to go out and face whatever the day may bring. The couple ooze confidence and self-esteem and Eva has said that those qualities were key in her own recovery from a serious eating disorder.
Taking charge of their own physical and mental health is a Speakman speciality and Nik and Eva have run health clubs and gyms. Just as Eva has her story of successfully battling a serious condition, Nik had his own life-threatening health issues as a young man. Around his 20th birthday, Nik suffered rare complications associated with ulcerative colitis. He was told that his life was at serious risk and that he should have a drastic surgical intervention to remove his bowel. Nik declined and, instead, developed his own ideas about the cause and possible remedy for his condition.
It was a terribly dangerous situation and Nik's gamble could have cost him his life but, happily, his self-developed programme of diet management seemed to work and he gradually returned to robust health. While we would not suggest that anyone should treat themselves for a serious condition without following professional advice, both Nik's determination and the outcome he achieved are impressive.
After such a serious health episode it is no wonder that Nik moved into the world of health and fitness. As a gym owner, he came into close contact with a lot of people and he was struck by how many of them seemed unhappy. Nik realised that he seemed to have a talent for bringing out the best in the people around him and the ability to help people realise their potential. He had enjoyed helping people in his early career in finance and, later, assisting them in living healthy lifestyles. Nik began studying to acquire the skills he would need in order to help other people by becoming a life coach. His new aim: to help people live happier lives with passion and enthusiasm.
"We all seek happiness," he says. "And most people have the belief that the key to happiness is having money. This is not always true."
Over the years Nik was puzzled by the fact that many of the wealthy and successful people he met seemed desperately unhappy.
"What was the secret that could create passionate, contented and grateful lives in many people who had nothing and yet somehow eluded these other people who appear to have all the material items anyone could wish for?"
It was this analysis of happiness and wellbeing that laid the path to the style of therapy in which Nik and Eva now specialise.
A key component in the Speakmans' own happiness has been their family home at Stubley Hall, Littleborough, Greater Manchester which Nik purchased in July 2000. The house is reputedly also home to a number of ghosts and Nik is convinced that he has encountered some of them.
When Nik first went to view the house one Sunday, he says, he began to feel a chill inside him. The strange feeling increased and Nik says that he seemed to hear a voice bidding him to come home. Although he could not explain what he had felt, he felt that he had to buy the Hall. He immediately agreed to buy, and exchanged contracts six days later.
During his occupation of the Hall, the Speakmans have discovered that the rumours of hauntings appear to be true. Several spirits have been documented over the years, the most famous being known as Fatima. A particular surprise was a spirit named Zelda who claims that she was betrothed to Nik in a previous life!
Back in the material world, it is not surprising that Nik's positive outlook also manifests in a love of personalised number plates. The Speakmans like to make their cars truly their own, as Nik told us back in 2004.
"I feel that personalisation is so very important. After all, when most people buy a car they will modify it in one way or another to suit their tastes, so why not change the registration too?
"Once you have bought a registration you can transfer it from car to car and an interesting number plate can totally change the whole look of the car."
At that time, Nik had his own modest collection of private registrations including 10 RD and 1 LRD which were light-hearted references to the fact that Nik actually owns the title Lord Speakman. He also had N1 KTS (for Nik Tuscan Speakman) on a Harley-Davidson V-Rod motorcycle.
Eva owned a personal plate of her own at the time of our visit: 350 EVA was displayed on her Mercedes. More recently we have seen pictures of Nik and Eva standing with a very nice Aston Martin bearing another EVA registration.
© Regtransfers – The World of Personal Number Plates Volume 2 Issue 2
Free Magazine
Fantastic FREE magazine stuffed full of number plates information and stories.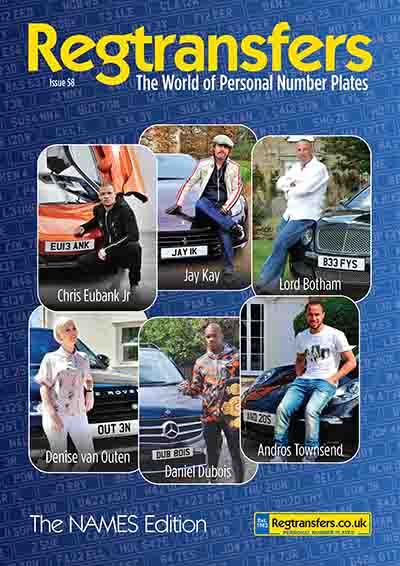 Order your free copy