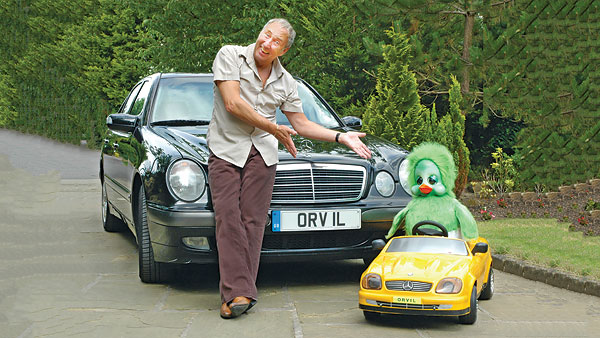 Keith Harris part 2
So how does he make his dummies such engaging and convincing characters?
"You've got to believe in your character for them to come alive. I've had so many different ones, over 170, and when Orville came along he was the one everybody wanted to see. The balance between the monkey and Orville worked really well.
"Up to then, most of my characters were hard-hitting, while I was doing the Northern working men's clubs and places like that. The clubs turned from nightclubs into discos, they had to have an act on of sorts to keep the licence so because I was a young guy with long hair and looked more like a pop singer coming out and doing ventriloquism, it was something very hip and very different. I had a snake called Sidney Ram Jam, which I'm not allowed to do any more – he spoke with an Indian accent and wore a little fez. I had a gay rabbit too, and I'm going back a long time, he was called Percy Pickle-tooth, then there was Freddy the Frog.
"Before a show, I'd always find the toughest guy in the bar and say to him, 'Do you want to earn a few beers?' I'd get him up on stage, squeeze him on the back and he'd open his mouth and mime what I was saying. Everyone loved it because it would be the most unlikely person letting me do this to them – his mates would say 'That's Charlie up there!' – He loved it too; it worked a treat.
"I thought I'd invent a character that was a little bit softer. First I thought of a baby, but babies don't say much. People like animals so I came up with the idea of a baby bird. Orville's not really a duck, but he's an orphan – he was an egg when I found him. And he's always been shy; it took him six months before he came out of his shell. So I had to create this character, and being lime green, apart from when you're on stage where it's obviously visible, there's no such bird as a lime green bird so we don't know what species he is.
"The first time I worked with Orville was on The Good Old Days . I'd designed him and sent it to a person who made props for me. I was also in the Minstrels doing the Christmas season in Bristol . He arrived from the props maker on the Saturday and I had to work with him on the Sunday. I'd written a script and I had a voice - how I would imagine him. I pulled him out of the box and I thought, I hate this, I really don't like it at all, it wasn't what I expected. I took it to the girls' dressing room and they said Oooh isn't it lovely... aaah! So I thought well that's an instant reaction. I made the story up about he doesn't know what he is and he hasn't got a mummy or daddy. Together with the big sad eyes and the baby's nappy, he was an instant success. I sang a song I used to sing with my Dad - 'Little man you've had a busy day,' I'd put Orville to bed [Keith sings a couple of lines for us] and by the end, the audience were crying. From there Val Doonican saw it and he wanted me on his show, then we did shows with Lena Martell, Cilla Black, who I also had on my show, and I used Cilla as a dummy, and Lulu; everybody wanted Orville.
"I did a series with Rolf Harris called Rolf's Here OK . He's a smashing guy, a great performer. The television producer, James Moya who then became head of BBC Light Entertainment, had been following my career. I was packing places out and it was all starting to happen for me. I was at Nottingham in Aladdin at the Theatre Royal in 1981. We held the record for the longest running panto – twenty two weeks from 23 December and finishing on April 10 – it's in the Guinness Book of Records. Billy Dainty was in it and Barbara Windsor played Aladdin. I was top of the bill. We invited Moya down to see the show and he said to me, you're there now. He gave me my first chance on TV with a Christmas Special and he said if it works you've got a series. All those years of building an audience paid off."
The Keith Harris Show ran from 1982 – 1990 and The Quack Chat Show from 1990 – 1993. "Someone said you should bring a record out and I said I've got one, called 'Orville's Song' but everyone knows it as 'I wish I could fly' which Bobby Crush wrote. Bobby worked with me in several summer seasons. We used to sing 'You've got a friend' or 'It's not easy being green', but I said can you write one just about Orville so he took all the bits from the act 'I haven't got a mummy and daddy' and 'I can't fly' and wrote it. We went to Abbey Road and put the song down and I paid for it; £3,500 I think it cost. I said – if it's good enough for the Beatles, its good enough for the Duck! In fact it wasn't going to be the A-side, the one I wrote called 'I didn't' was meant to be, so we spent all afternoon doing that with a kids' choir. We had ten minutes left so we got the other track down; we did it once off, which was Orville's song.
"I took it round all the record companies and at EMI I saw a big record producer. I said I've got this green singing duck, and he said: 'Leave it in the bin on the way out son. We're pop stars here we don't have green ducks.' So it went in the bottom drawer for three years. The great thing was that when it did come out it was a hit. I was on Top of the Pops and the EMI record producer was there with Abba who were at number sixteen in the charts and I was at number four. I said to him, do you remember me? [Keith mimics the producer's mumbled reply]. It didn't get to number one but it sold 400,000 copies and won us a gold disc."
Keith discovered many acts whilst he had his own TV shows, including Five Star, whose biggest hit was System Addict and Norwegian group A-ha, who performed Take Me On a year before it became a hit record. "I said to all the young comics of the day that I'd worked with in the clubs - if I get my own show I'll have you on and not only do your own spot but do a sketch with me - so I had people like Bobby Davro, Brian Conley, Joe Longthorne and Gary Wilmot . "
Over the years Keith has worked with all the great stars: Tommy Cooper, Morecombe and Wise, Norman Wisdom and others. "I was in awe of Morecombe and Wise. You didn't speak to them they spoke to you. By seventeen I was on stage at the Palladium – they were great times when I look back, they were the kind of opportunities up and coming stars haven't got today unfortunately, but if you keep going and keep doing what you're doing, something comes around all of a sudden. I must be one of the youngest surviving variety acts. I was the last one to do a television show variety wise from that era. Sometimes there's a bit of a lapse when you're out of the public eye but I'm always working.