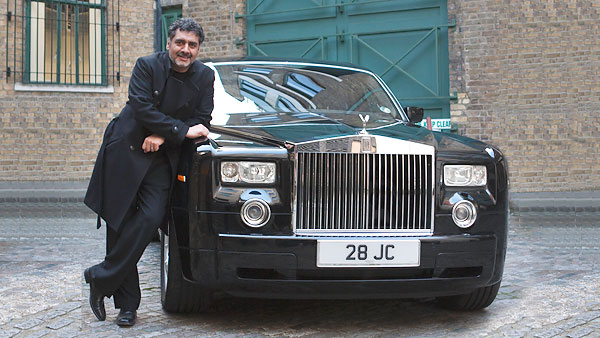 James Caan part 3
"I'd like to find something for Hanah really: her initials, or 'Hanah' or something of that nature."
Although his own interest is casual, and something separate from his business concerns, James does recognise that there is a potential investment angle in personal car registrations.
"If you look back over the last ten years, the value of number plates has gone up quite a lot. You know, there's only one of each plate, and I also think that's the fun thing about it. If I wanted JC 1, I'd be the only person in the country who had got it."
James has not yet been tempted to buy plates as an investment himself.
"I tend to stick to businesses I know and understand."
That is a tendency that is clearly demonstrated in his business track record. His long-term interests have been in those industries he knows well. In that context, Dragons' Den has been something of a revelation to James. It has, in some measure, perhaps broadened his business horizons and encouraged him out of his investment comfort zone.
"It's allowed me to see opportunities and to meet people that I otherwise would never come across. I mean, do I look like the kind of guy who's going to invest in a dog treadmill? But that was my first Dragons' Den investment! I think it takes you into areas that otherwise you might never consider."
James Caan comes across quite differently from some of his Dragons' Den colleagues. Where some of the other Dragons project rather tough and daunting personas, James exudes an air of calm good humour and affability. Throughout the interview his responses to questions are littered with jokes.
His attitude to life in general seems very bright and positive. His interviews in print and broadcast media often contain the kind of anecdotes and observations that one might expect to find in a motivational talk, but with Caan these things aren't contrived or clichéd. When asked, during a TV interview, if he thought that rags-to-riches entrepreneurs were driven by a feeling of having nothing to lose, he immediately responded that he rather thought that they were driven by the feeling of having everything to gain.
Caan acknowledges the valuable lessons he learned from his father, and says that he leaned a great deal about how business might be conducted in an ethical manner. His father taught him that business need not be dog-eat-dog. There is no need for each transaction to involve a winner and a loser. It is possible, and desirable, for both sides to walk away feeling positive after striking a deal.
One trait James Caan shares with his fellow Dragons is his inclination towards philanthropic work. He has established the James Caan Foundation, an organisation dedicated to improving the prospects of children, both in the west and in developing nations, who formerly lacked access to education. He has built a school in Lahore, Pakistan where disadvantaged children, whose families cannot afford to educate them, may attend for free. James is also involved with a number of other charitable trusts including the NSPCC in the UK.
Some have said that the British public resents success, that we take delight in the failure of others. The evidence doesn't support that view. What seems fairer to say is that we celebrate the success of those who we deem to deserve it. As for what makes someone deserving of wealth – well, it seems that we often base that judgment upon what they do with it. Happily, many of the new breed of celebrity entrepreneurs, people like James Caan, are reassuringly in touch with the real world. They are aware of their own good fortune and of the hardship experienced by others, and that awareness moves them to act.
It is hard to resent the success of people who do the right thing.
As James says, "…Money's great – but it's what you do with it that really counts."
Interview: Angela Banh
Story: Rick Cadger
Photography: Steve Gardner
©Regtransfers.co.uk