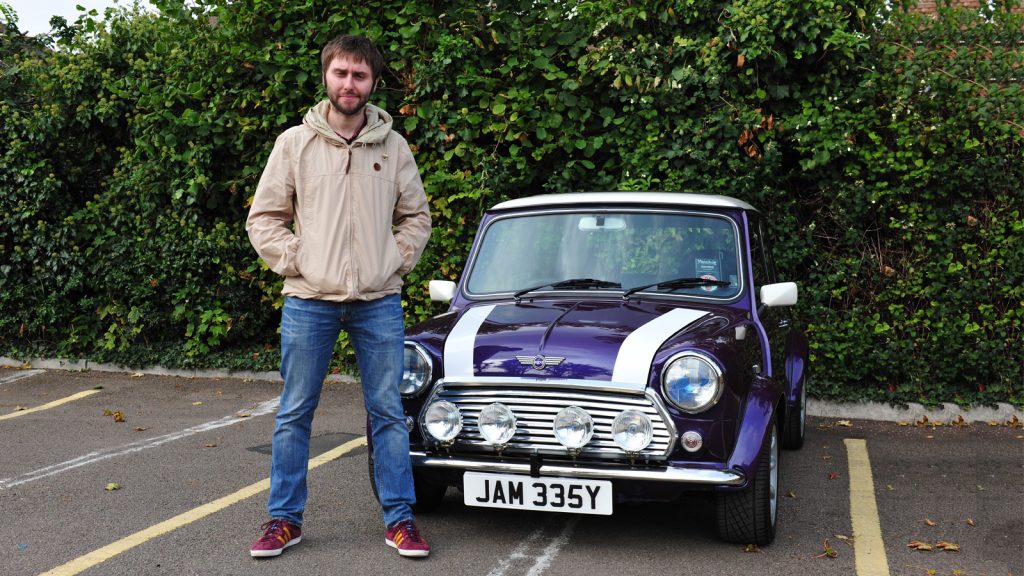 James Buckley part 2
Of course, no Regtransfers celebrity story would be complete without a car and a number plate. Happily, James Buckley's car really is something special.
James is a Mini enthusiast but he wanted something more than just an old Mini with all its limitations, or a new Mini with its non-traditional vibe. What he wanted just wasn't available so James found a suitable old-style vehicle to act as a foundation for his vision, then took it to Enfield-based customisation specialist Yiannimize. When we visited James to deliver his new personal number plates, we met him at the Yiannimize workshop where James and custom car wizard Yianni told us all about the unique Mini.
"It was a huge job," James admits. "I turned up at Yianni's earlier this year with an old envelope that had a sketch that I drew on it. There was a long list of all these things I'd dreamt up. Basically, what Yianni has built for me is the car I've wanted since I was 17 years old. It's a dream come true, it really is. He took this very badly drawn sketch and scribbled list and made them into reality.
"There were a lot of challenges because, you know, there's no room in a mini. This one has basically got the centre console and the dashboard of a Range Rover, and somehow he's put that into a Mini! It's got all the sort of mod cons and comforts you get from a luxury car and Yianni's managed to fit it all into this tiny space. I think that was the biggest challenge really, wasn't it?"
Yianni laughs. "Yeah, it was very difficult. When James turned up and we had the meeting we were like, 'Ok, so we're used to doing Vianos, Rolls-Royces, big cars,' and he's like, 'I want to have state of the art stuff in this Mini.' We went, 'Great, but where are we supposed to put everything?' In the end, we literally built a whole new dashboard to fit everything in. We did all up-to-date buttons and different handles. Outside we painted everything, redid it and basically brought the whole thing back to life. To see it now you'd think it was a 2013 or 2014 custom Mini but with the old school, Italian Job feel, the old shape. Everything's up to date now: it's got iPod, it's got Bluetooth, it's got DAB, it's got CD, DVD. Everything is in this car now but it still looks classic."
"I've had new Minis as well," James says. "I just love Minis, especially the old, classic style. When I saw it after it had all been finished I was absolutely speechless. I had no words good enough to describe it. It's been in my head for the last decade, that car. Like I was saying to Yianni, I don't want to sound overly dramatic but what they do here is make dreams come true. That's what they do for people. I love coming here."
Recollections vary regarding exactly how long this epic restoration and customisation job actually took.
"It took… I think it was three months, maybe four months," says Yianni.
James, on the other hand, suggests, "I think it was more like six."
"No way was it that long!" Yianni pauses, running through the project timeline in his head. "Barry was away. Barry is my main custom builder and he was away for like three to four weeks in Cyprus, so literally, that build came to a stop while I was waiting for my main guy but… Well, yeah, I suppose it could have been five months, maybe. But then, to be fair, James was changing things as we were going along. We'd get him down every two or three weeks and he'd be like, 'I like this but change this. I like that but change that'. I was like, [sighs] 'Ok.' So literally we had to just redesign whatever James decided. It was cool though."
When the Regtransfers team visited Yianni's HQ on a previous occasion, James's car was just an empty metal shell.
"Oh, do you remember that?" asks Yianni. "It had no doors, no interior, no wheels, it had nothing."
"A lot of the work was preparation," James recalls.
"And wiring," adds Yianni. "Wiring takes a long time. Barry did probably two weeks of wiring. The amount of wires in that car is unreal. You can't see because obviously they're hidden but… yeah."
"There's little things that you take for granted every day," James enthuses, "but if you're a Mini owner you think they're amazing – like central locking, electric windows, stuff like that. These are luxuries that you don't normally have in an old Mini. It's all fantastic. It's absolutely brilliant. Oh, and speakers in the front. Usually in a Mini you have two speakers in the parcel shelf, rattling about. I've got a sub in the boot."
"It sounds like a disco," says Yianni. "It is loud. It's amazing."
"So," says James, "the whole shell is completely soundproofed because Minis are dead noisy as well. It's nice and quiet in the car and you can really hear whatever you're listening to. I listen to a lot of podcasts and a lot of stand-up audio podcasts, so it's really good to be able to hear spoken word in a Mini."
How did the projects come about initially?
"Well, my wife gave me permission to go out and do it," James says with a smile. "I sort of mentioned it to her, that I really wanted to do this. I'd been saying it for years and years and years. I found a Mini online that I thought would work and then I sent a tweet out asking if anybody knew someone who could do what I wanted for my car. I had about 50 replies telling me to go and see Yianni, and Yianni himself tweeted me saying to bring it round for him to have a look. That was on a Friday and I was literally there on the Monday"
"Yeah," adds Yianni, "and the Monday was a bank holiday and I was supposed to be shut! I'd only opened because I had a few people coming down, and then James turns up."
Despite the tongue-in-cheek grumble, Yianni is really not complaining. "Listen," he says earnestly, "we do work with Ferraris, Lambos, Bentleys, all day long. This was a fun project. Even Barry was like, 'Now this is going to be interesting'. We can do Range Rovers, we can do Vianos, we do them all day long and it's our bread and butter. This was different.
"When we'd finished the car we had to take it to a Mini specialist because we needed something checked: an issue with one of the lights, I think it was. Well, obviously we're not Mini people so we took it to this specialist. Anyway, when we got there, like everyone came out of this Mini specialist place and they're all like, 'Oh, my god. It's just the best Mini.' And these are Mini fanatics. These people are on all the groups… All they know is Minis. They've come out, they've looked at this Mini and they're like, 'It's the best Mini we've ever seen. We can't believe you've done it and you're not Mini people.' So, yeah, it was crazy."
"Because I've got kids I need another car too," says James. "I've got a really nice Range Rover and it's all kitted out as well, and that's a lovely car, but that [indicating the Mini] actually turns heads and people come up and say 'Love your car,' and I'm like, 'Thank you!' It's kind of a real spectacle."
Oddly, to us, even though he owns the ultimate, unique Mini, James had never really considered purchasing a private number plate until he's spoken to Regtransfers.
"No, I'd never really thought about it. Although I have a plate on my Range Rover that says 'MOD', but that's a bit boring."
The plate we delivered to James was CL11 NGE. Regular viewers of The Inbetweeners will immediately see why James would choose that. To the uninitiated, we extend our apologies for declining to explain in a family-safe magazine, and respectfully suggest that they do a little research. It really won't take long.
"Yeah, there was one stand-out number that I thought I had to grasp, which obviously was CL11 NGE. I couldn't say no to that. It's more wacky and unusual than the one on the Range Rover, and obviously, it fits in well with The Inbetweeners. The childish person inside me – the Jay inside me, I guess – just fell in love with it."
Interview: Angela Banh
Story: Rick Cadger
Location photography: Stan Thompson
1 | 2