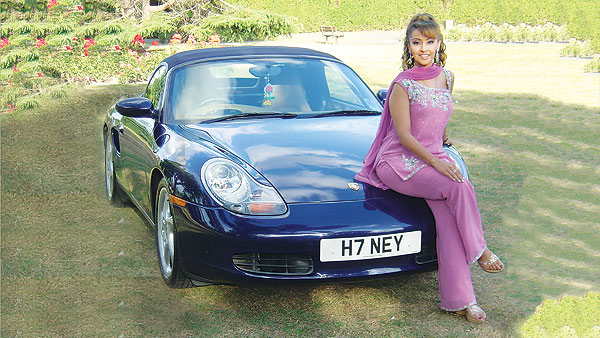 Honey Kalaria part 2
Honey has been interested in cars from a very early age. "In fact when I was 13 years old," she says, "I started talking about fast cars, rally driving and predicting that when I take my driving test I will pass first time! I was lucky, by the time I turned 18 I passed my driving test on the first attempt, have now taken part in various women's rally driving competitions and to this day, have enjoyed driving around in sports cars."
Asked about her first car and her dream car, Honey replied, "When I was at school, I used to tell my friends how much I loved 2-seater cars and that my first car would be a MG Midget, my second car a Toyota MR2, my third a Mercedes open top and my fourth a Porsche.
My friends were extremely surprised when I drove into college with a bright red MG Midget! I have also owned an old Toyota MR2, a navy blue new Toyota MR2 and now a navy blue Porsche Boxster. I love Porsches. I am quite addicted to their power, speed and comfort and my next one will hopefully be a Carrera."
Honey was not interested in number plates until she started performing at high profile events. Asked what triggered the interest she said, "I used to see many cars with interesting private number plates and slowly began to find them quite attractive." Her passion began to grow until she felt she wanted to own one. "I wished for the right number plate to come up and it did!" Honey explains how H7 NEY came about. "Let's put it this way - I was at the right place at the right time.
I also possess D1 VAE which I bought for my company Diva Entertainments." We then asked Honey what her friends and family think about her personal plate. "They all love the registration. Being a Bollywood celebrity, you do get staring as they see the car registration and immediately recognise me. It gets quite embarrassing, but it does attract a lot of attention."
When asked about her experience of dealing with Regtransfers.co.uk, Honey replied, "I think the company is brilliant and it's fantastic how it can bring so much joy to car enthusiasts like me. I would definitely recommend Regtransfers to family and friends."
1 | 2