How To Buy a Number Plate
Buying your very own personalised registration is as easy as 1,2,3. Just follow the steps and we'll take care of everything for you.
---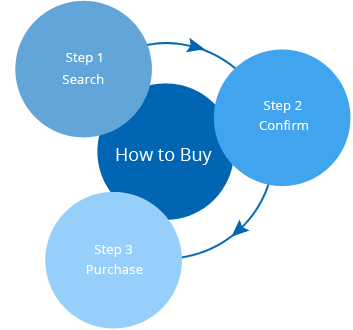 Step 1
Use one of our searches to find a number plate that suits you. You can enter your initials, name or any text you like into our general search box or try our Find a number plate page.
Step 2
When you have found the number you would like to purchase, make sure that it can be transferred to your vehicle. The basic rule is that you may not transfer a number plate to any vehicle if the vehicle itself is older than the year indicated by the indicator numbers or letter on the plate. For example, a car that originally bore a 'D' year prefix plate may not display a 'W' prefix plate as that would falsely make the vehicle appear younger than it is.
NB: If you do not have a vehicle, you may still purchase your registration and retain it on a special certificate until you are ready to transfer it to a car, motorcycle or whatever. If this applies to you please call us and we'll explain. It's really very straight-forward.
Step 3
Just click the "Buy Now" button on the search results page to purchase online or call to speak to one of our friendly, professional advisors. When making your purchase, don't forget to choose the style of acrylic number plates you would prefer. These are the actual plastic plates that fit on your car to display your personal registration. If you purchase online you will see a preview tool that allows you to see the various styles and to choose. If you purchase from one of our advisors you will be given details of the various plate style options at that time.
---
There! With your purchase complete, just sit back and await prompt delivery of your paperwork and your personal number plates.