Birthday number plates
Mark that special day with a birthday number plate from Regtransfers.co.uk!
Dates are important and birthdays doubly so. How many of us worry about forgetting the birthday of a loved one? How many of us diligently maintain birthday books or calendars in a bid to ensure that we don't miss any?
Regtransfers has a range of great date registrations. A number plate representing a birthday is a great gift choice. We find that many customers buy date plates for themselves, so it's a fair bet that a plate bearing your loved one's date of birth will be a welcome present. Date plates can also be less expensive than many name numbers, so they tend to fall within more people's budgets.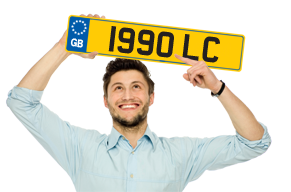 ---
The number representing the date may be combined with letters to display the owner's initials. A fantastic way to personalise a car, and you can be sure that the recipient of such a gift will never again forget their registration number!
Don't forget, date plates can be meaningful in many other ways too. Wedding anniversaries, establishment of businesses, historical events: all of these and more can be represented on a vehicle number plate.
Examples of the birthday registrations we have:-
1980 SW
1966 BS
1966 BG
1977 CW
1968 GG
1968 JT
If you need more ideas, get inspiration from our other themed searches.
Our page on car registrations formats explains how to understand prefix, suffix and current-style number plate layouts.